Tuesday, August 4th, 2020
---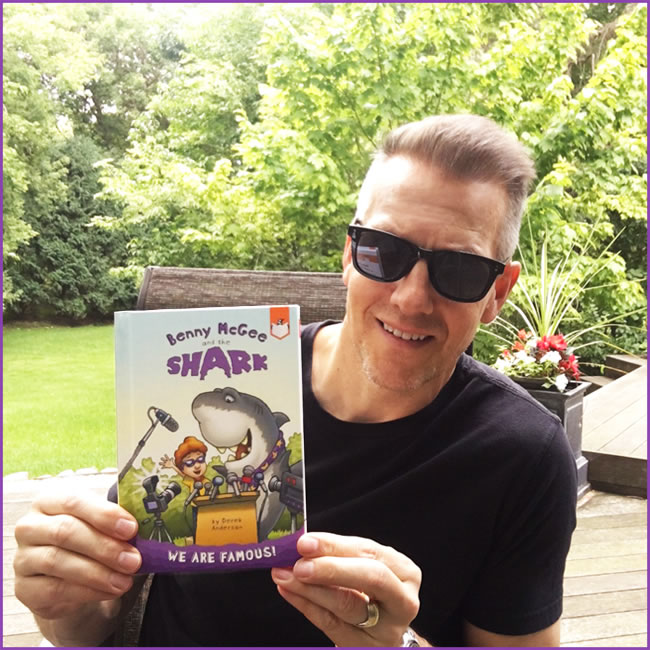 Benny McGee's NEW Book
WE ARE FAMOUS!
is out today!
It's time to get on a pair of your coolest shades. Feel free to wrap a scarf around your neck if you need to look even cooler. Get yourself a copy of Benny McGee's new book Benny McGee and the Shark: We Are Famous! and make sure your chair has a seat belt. You're going to need it for Benny's new wild ride on the roller coaster of fame.
Happy reading!
You can find links to buy this book from your favorite local bookseller and online HERE.
Monday, August 3rd, 2020
---
Benny McGee and the Shark: We Are Famous!
comes out TOMORROW!
It was so much fun to see finished copies of my new book Benny McGee and the Shark: We Are Famous! last week.
A book takes so long to make—from that first inspiration to choosing the right words to unfold every scene. And when the story is written, spending months in the studio creating the sketches and artwork. So it's exciting when a book is finished and coming out in the world.
My new illustrated chapter book Benny McGee and the Shark: We Are Famous! will be published tomorrow!
Thursday, July 30th, 2020
---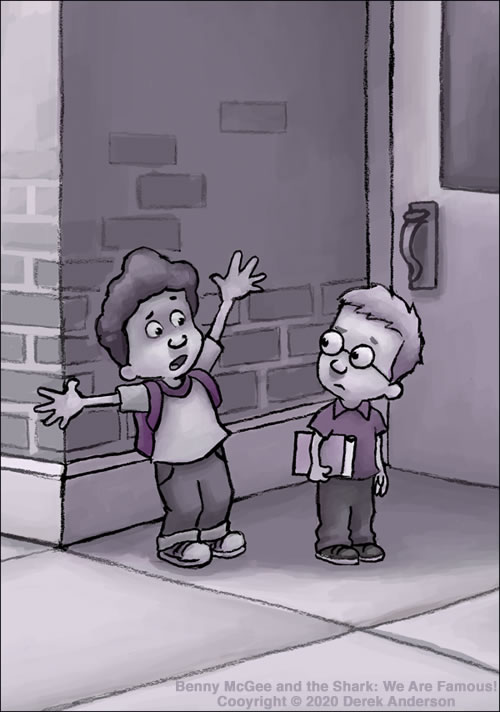 This is NO BULL!
I still remember one of the hardest things about being a kid was when I would tell a friend about something that had happened and they wouldn't believe me. Even when it was true.
There's a story from my childhood that people still don't believe when I tell it today. In fact, I was speaking to a children's literature class at Concordia College in Moorhead, Minnesota a number of years ago and when I began telling this story, several students shook their heads in disbelief. They weren't buying it. To be fair, my job is to make things up. But this story is true and I have proof.
It was January 1984. I was at home in Ames, Iowa late in the afternoon when there was a commotion outside. My brothers and I looked out and a full-grown bull was standing in our front yard. We didn't grow up on a farm, Ames is a city with more than 50,000 residents and there were no farms near our house. My brothers and I looked at each other, wondering the exact same thing—was this really happening? It was, and we weren't going to miss it. We hurried outside.
A fifteen hundred pound bull, complete with horns, was loose in our neighborhood. Some nervous police officers were trying to keep everybody back while an assorted group of non-official looking people lingered nearby, not wanting to get too close to the beast. And nobody was sure what to do next.
Much to our delight, the bull wandered in and out of yards in our neighborhood for more than an hour, putting it's head down and charging after anybody that dared to get too close. There weren't smart phones or social media, and the internet hadn't been invented yet, but word got out and a few people from neighboring streets hurried over to see the extraordinary event. The bull was eventually tranquilized and safely taken away in a large truck. We later discovered he had escaped from the College of Veterinary Medicine at Iowa State.
Imagine trying to tell your friends about that experience the next day at school. Nobody would believe me. Or imagine trying to tell that story to an audience of skeptical college students. It doesn't ring true—it's out of the realm of most peoples' experience. To my knowledge, that has never happened in another city anywhere. Ever.
Fortunately, it was written up in the Ames Tribune the next afternoon, so I have proof...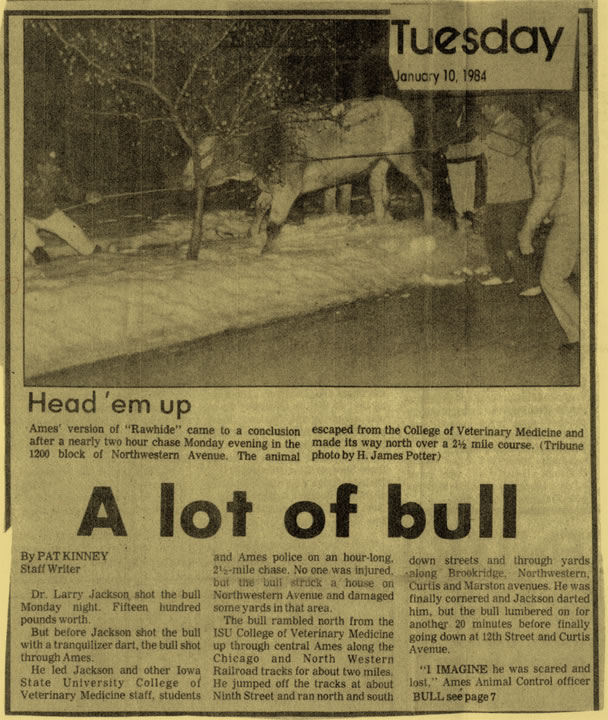 That helpless, hopeless feeling you get when something is true, but nobody will believe you is exactly what I was after to set Benny off in my new book Benny McGee and the Shark: We Are Famous!
Benny befriended a great white shark in his first book The Shark Report. But now he's trying to convince his friend, Dewey Hill, that he knows a shark. Of course, Dewey doesn't believe him. Would you? Desperate to prove that he's telling the truth, Benny borrows his mom's phone, shoots a video of the shark and posts it online.
Benny never even considers the fact that others will see the video. And they do—by the millions. When it goes viral, it quickly sets into motion a chain of events that Benny never could have imagined. But one thing is for sure; Benny McGee is telling the truth about the shark.
And I'm telling the truth about that bull.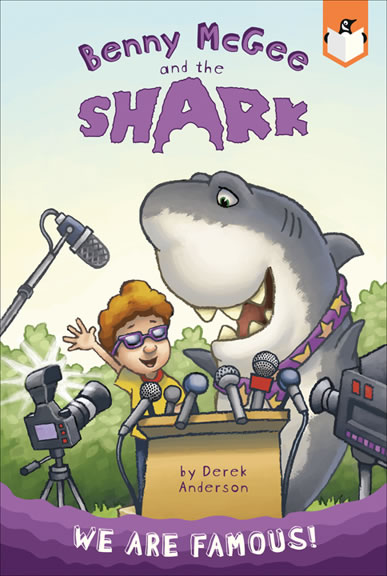 Benny McGee and the Shark: We Are Famous!
will be published on August 4th.
Tuesday, July 21st, 2020
---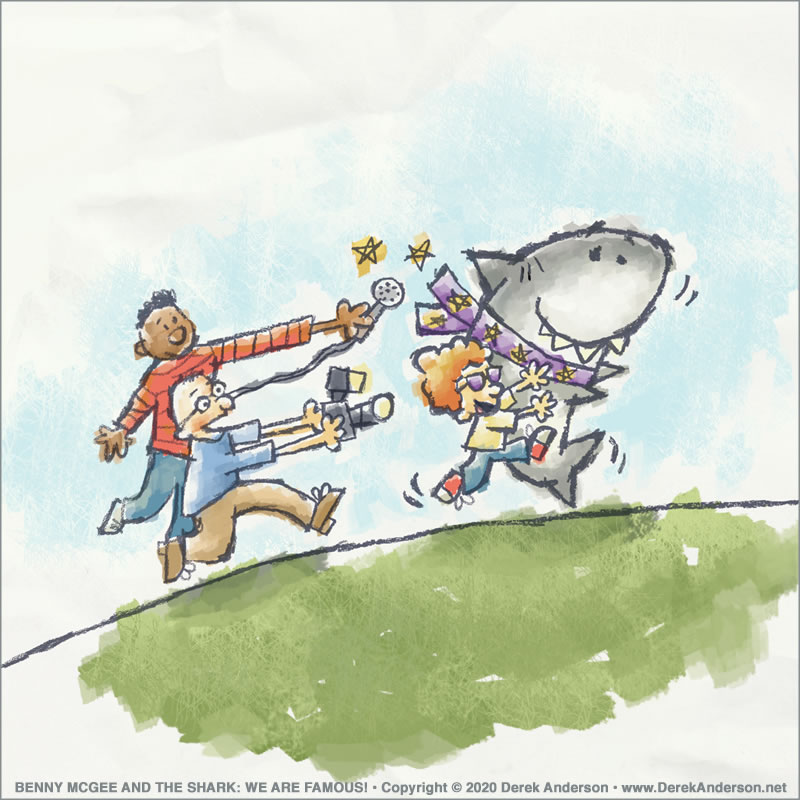 Exploring the FUN of FAME!
"I absolutely loved being famous.
It was all great, up until the point when it wasn't."

-Noel Gallagher
I love the questions kids ask when I go out and speak in schools. I'm never quite sure what they'll be curious about.
Last year, I was surprised when a girl had a question I'd never been asked in all my years presenting to students. I was in a small town in Northwest Kansas when a girl in third grade raised her hand. "What was the actual day that you became famous?" she asked.
I had to smile. Fame is one of those things that's nearly impossible to define and even harder to explain. I'm not famous, I'm just a guy that loves to create stories and pictures for books. But since I was standing on a stage in an auditorium, under a spotlight, in front of hundreds of kids, there was no point in arguing. My answer was a silly one, "Well, I can't remember exactly, but I know it was a Tuesday…"
I went on to explain how fame is a funny thing. What's famous to one person isn't always famous to another. I told her that even though my characters and books have been published all over the world, most people don't know what I look like so they don't bother me in grocery stores or when I go out in public.
In my new book Benny McGee and the Shark: We Are Famous! I wanted to explore fame and how a boy might react to suddenly getting that kind of attention.
Can you imagine what it would be like to have news trucks parked up and down the street outside your house? Or people you don't know rushing up and wanting to have their picture taken with you? Would you let it change you? Can you imagine what it would be like to be forced to wear a disguise when you left your house, just so people wouldn't recognize you?
One of the great joys of making books is that I get to make my characters' wildest dreams come true. Benny McGee loves being famous... at least for a little while. But he quickly learns about all the pitfalls that come with that kind of attention.
Benny McGee and the Shark: We Are Famous! will be published on August 4th.
Tuesday, July 14th, 2020
---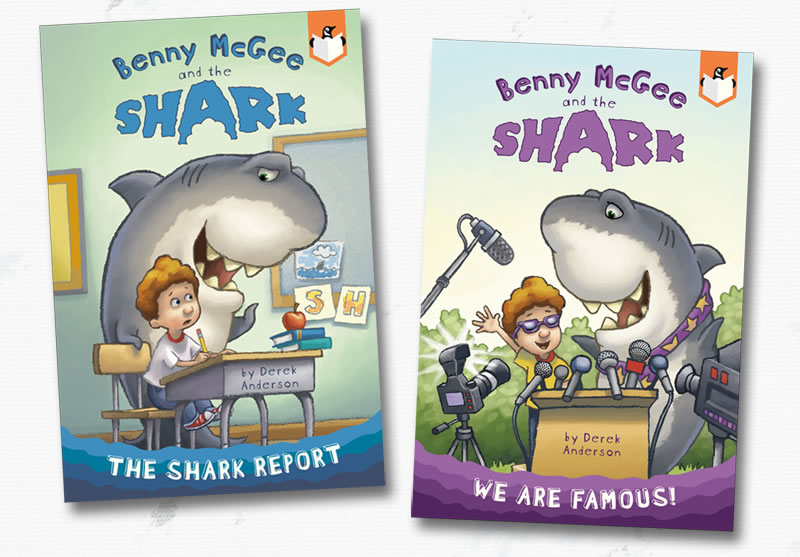 Benny McGee is going to be FAMOUS!

The front cover is one of the most important parts of any book. It's an invitation to open the book and step into that world. Today, I'm going to show you how I created the cover for my new illustrated chapter book Benny McGee and the Shark: We Are Famous!
In Benny's first book, The Shark Report, he's followed home from the beach by a great white shark. He's afraid of the shark at first, but Benny's fear is soon transformed into empathy and affection. Benny even names the shark 'Mr. Chompers.'
In his new book, Benny is trying to prove to a boy at school that he knows a shark. So he makes a video of Mr. Chompers doing a trick and posts it online. When it gets millions of views, Benny and the shark accidentally become famous.
For the cover, I needed to show Benny and Mr. Chompers getting a lot of attention, but I didn't want to clutter it with too many details. The idea of a press conference was perfect. It suggests there's an audience without actually showing them.
I always begin with a rough sketch. I don't worry about making it look exactly like the characters. This is about getting the idea down in a quick, rough form to see how it looks.
If I like it and it's working, then I move on to a tight sketch. This is where I really focus on the characters and details. I want everything to be as clear as possible. A reader needs to know, in a split second, what they're looking at.
It's funny how a few small details can communicate the idea of fame—the sunglasses on Benny, his big showy gesture, the collection of microphones on the podium, and the cameras all suggest that this is being broadcast to a wide audience. I often lay in values and shading at this stage so I can get a feel for the space and how it reads.
Creating the painting is the real fun. That's where the characters and world spring to life.
You'll notice I've pointed everything at Benny—most of the the microphones, the mic boom on the left, the cameras and even Mr. Chompers is looking at him. And Benny is loving all the attention.
I think nearly everybody has thought about what it would be like to be famous. If you had the choice, who wouldn't want to be famous? But Benny learns something in this book that we often forget—everything comes at a cost. Being the center of attention can be fun for a little while. But would you really be willing to give up the life that you know—freely going wherever you want, and doing the things you love to do without people staring at you and bothering you… just so others will recognize and acknowledge you? Benny discovers the real price of fame in this book.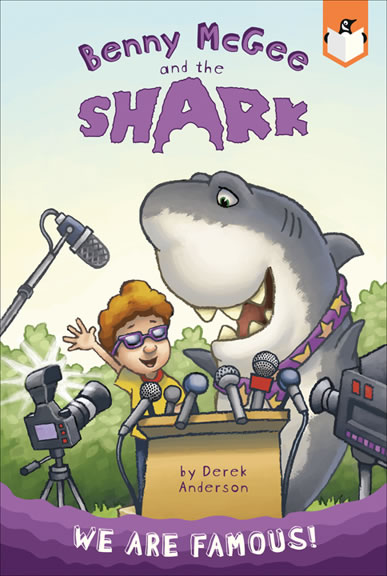 Benny McGee's new chapter book Benny McGee and the Shark: We Are Famous! will be published on August 4th.
His first book Benny McGee and the Shark: The Shark Report is in stores now.  
Thursday, June 25th, 2020
---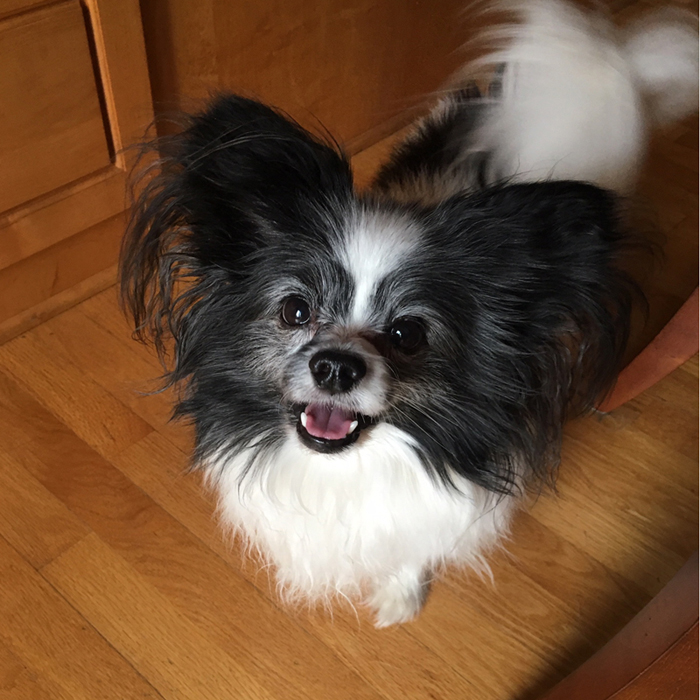 Louie

Our best friend in the world is gone. Louie died unexpectedly yesterday. He was our main man, our bundle of bounding joy and energy and the center of our world. He was a giant personality in a little black and white body.
Louie loved everything about life. He approached this world with great enthusiasm and energy. He made the best of every situation and never complained. Louie loved to play, to compete in agility, and would do just about anything for a cookie.
Though he'd had some small health issues over the past month and a half, Louie's vet had started him on some medicine and new food and he seemed to be on the mend.
 
Louie was the best dog we could have ever asked for. We packed a lot of living in our nine years with him.
Our life will never be the same without him.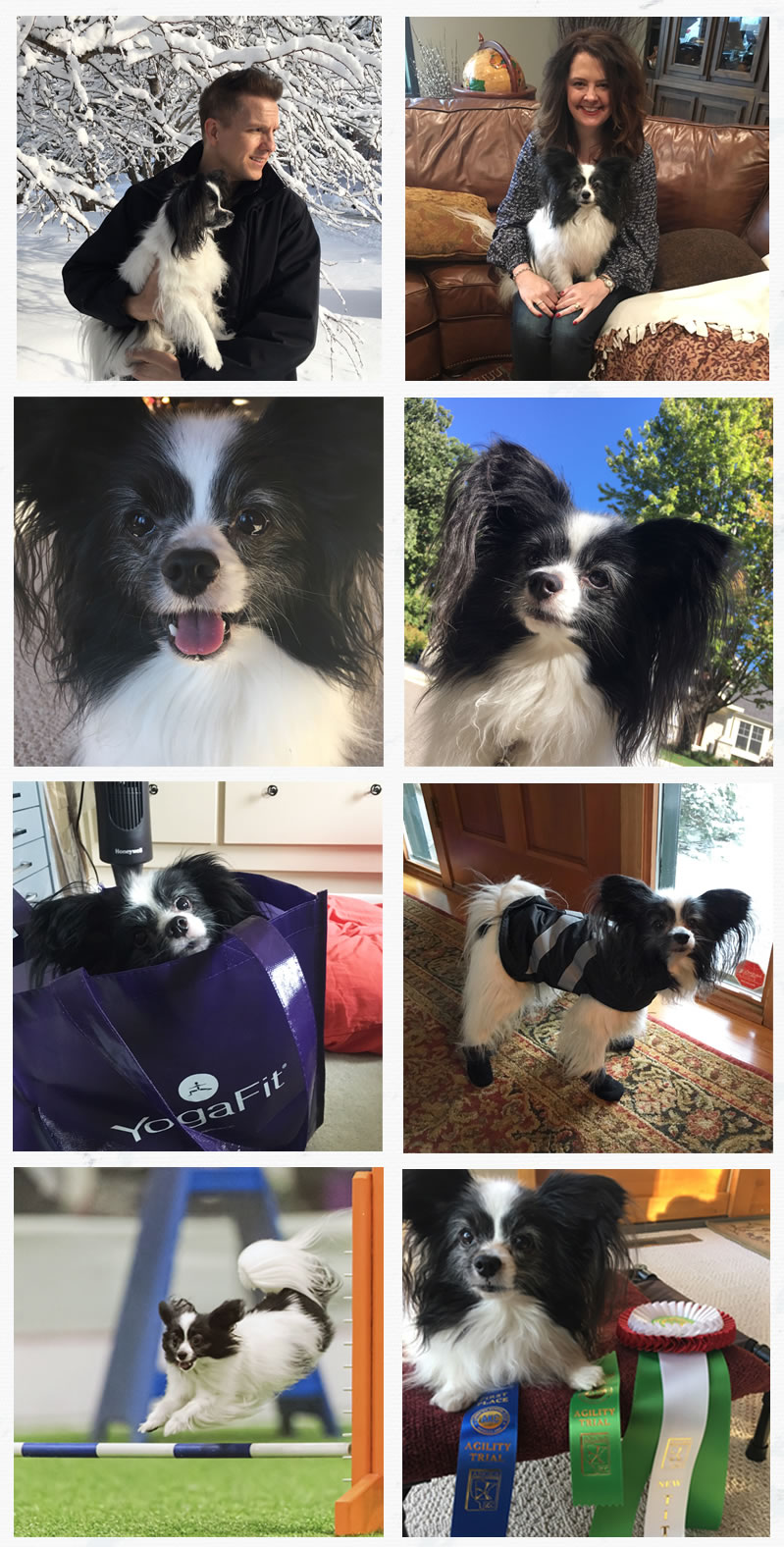 Saturday, April 25th, 2020
---
A Virtual Event for
Benny McGee and the Shark:
The Shark Report
I was supposed to be doing events at the Iowa State University Bookstore and the Ames Public Library in Ames, Iowa for my new chapter book Benny McGee and the Shark: The Shark Report. But because of current circumstances, we were unable to hold them. But that doesn't have to stop the fun! I recorded a video this week that you can enjoy from the comfort of your own home.
Please enjoy, stay safe and KEEP READING!
To order a copy of The Shark Report from the Iowa State University Bookstore and have it shipped to you, please click HERE.
Thursday, April 2nd, 2020
---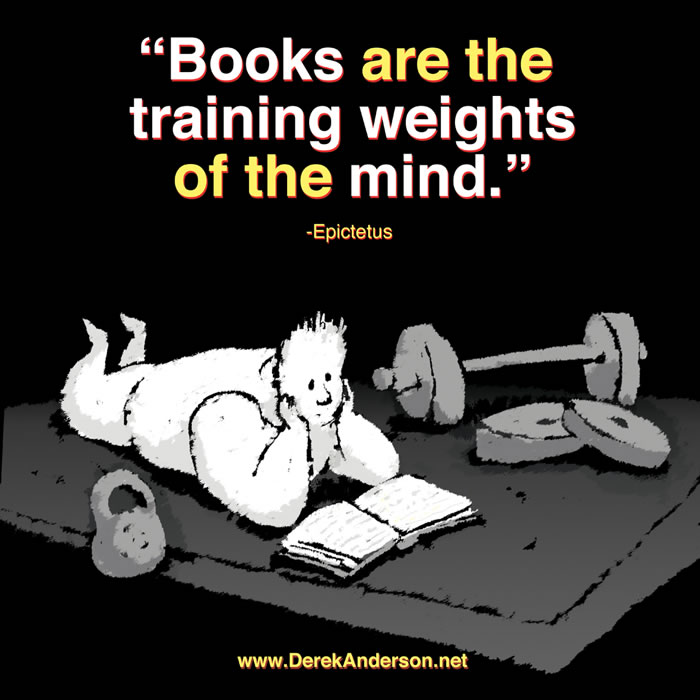 You don't have to lift heavy things
to be strong.
Friday, March 27th, 2020
---
Listen...
We can't always see the bright spots when there's so much noise in the world, but that doesn't mean they aren't there. Don't spend your time trying to get this over with—read, write, make something. Do your best to enjoy these days. You will never get them back again.
Wednesday, March 18th, 2020
---
Courage is a Choice
Thursday, March 5th, 2020
---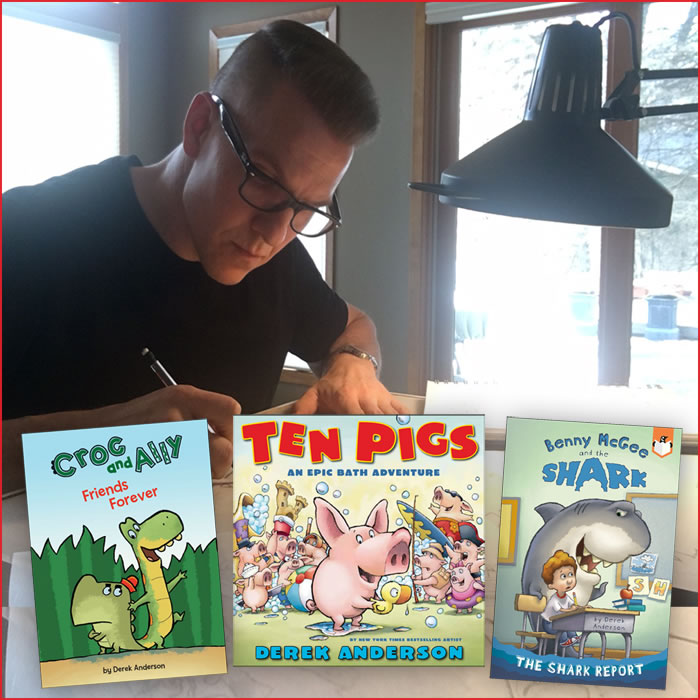 An Evening at Loveland Public Library!

Hey Denver friends and readers! I will be at Loveland Public Library in Loveland, CO on Monday, March 9th at 6:30pm! I will be showing how I create characters and books! This event is free and open to the public.

I hope to see you in Colorado!
For more details, click HERE!
Tuesday, March 3rd, 2020
---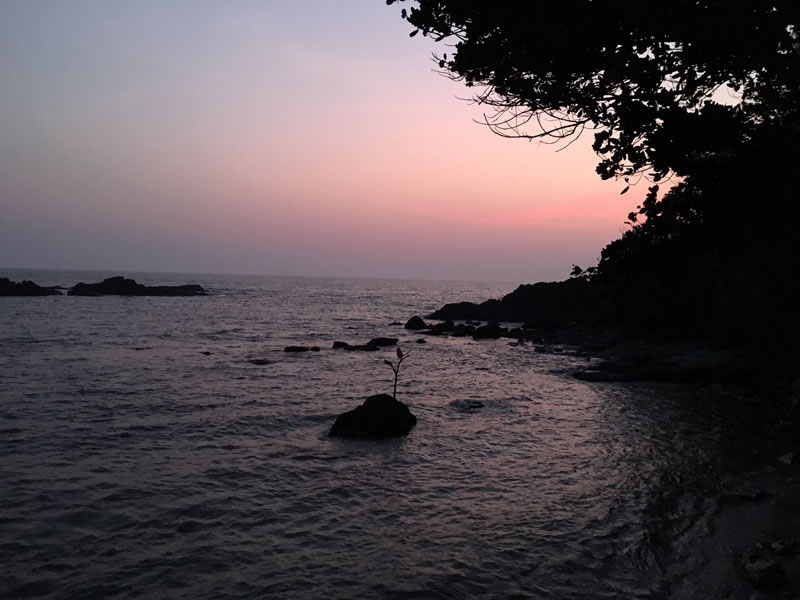 Adventures in India!

Cheryl and I just returned from an amazing, eye-opening trip to India.
We began at a yoga retreat in Goa which is on the coast in western India on the Arabian Sea. We stayed in a small, rustic bungalow on the ocean. We had running water, but there were gaps in the siding, so we had some creepy crawlies that let themselves in. The first night, Cheryl called me into the bathroom to show me a bug that was so big, if it were in the U.S., it would be an attraction at the zoo. It wasn't interested in being shooed away and was too quick to catch, so we had to get comfortable with having a third roommate for the week.
But we weren't complaining. We were in India!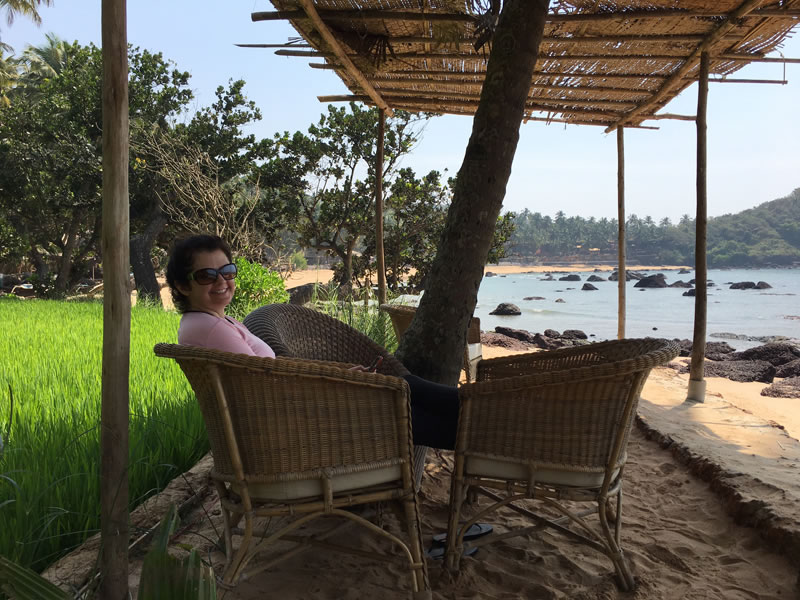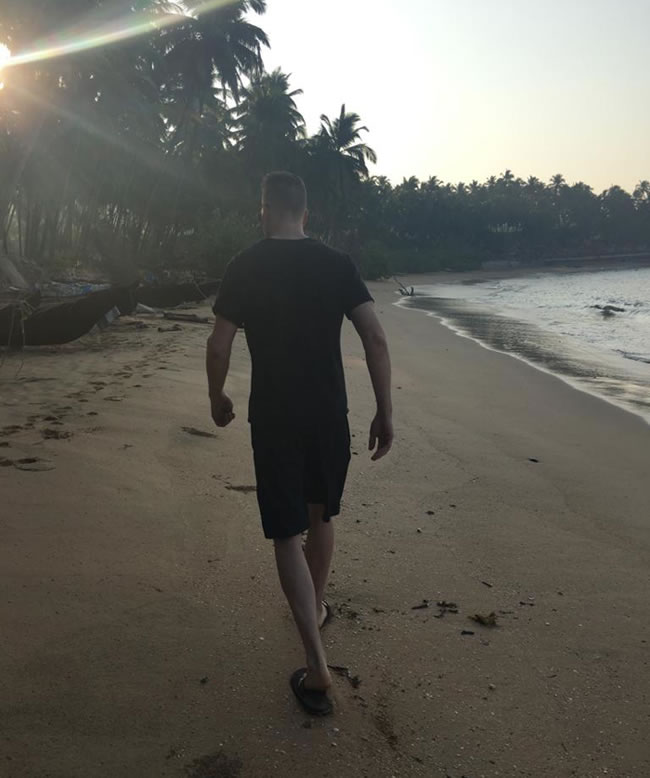 We began each morning with a two hour yoga session from 8am-10am. Cheryl is much more experienced at yoga than I am, but I tried everything. Pardeshi, the yoga teacher, was very patient with everybody, no matter your skill level.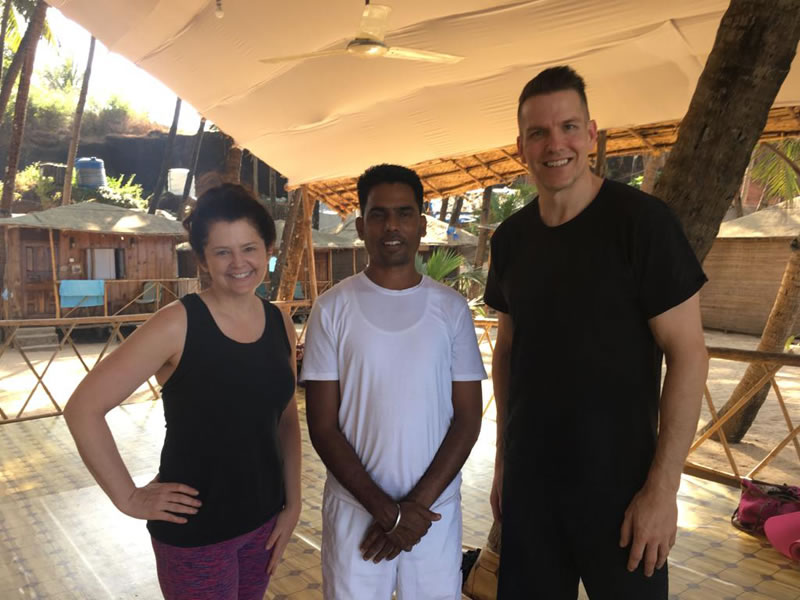 We were the only Americans at this retreat. We had a great time getting to know the other attendees from London, Germany, Holland, Switzerland and Qatar.
These two young women are teachers from Switzerland. Sarah (left) teaches first and second grades, and Michal teaches kindergarten. We had a really nice chat about children's books and what life and teaching young students was like in Switzerland.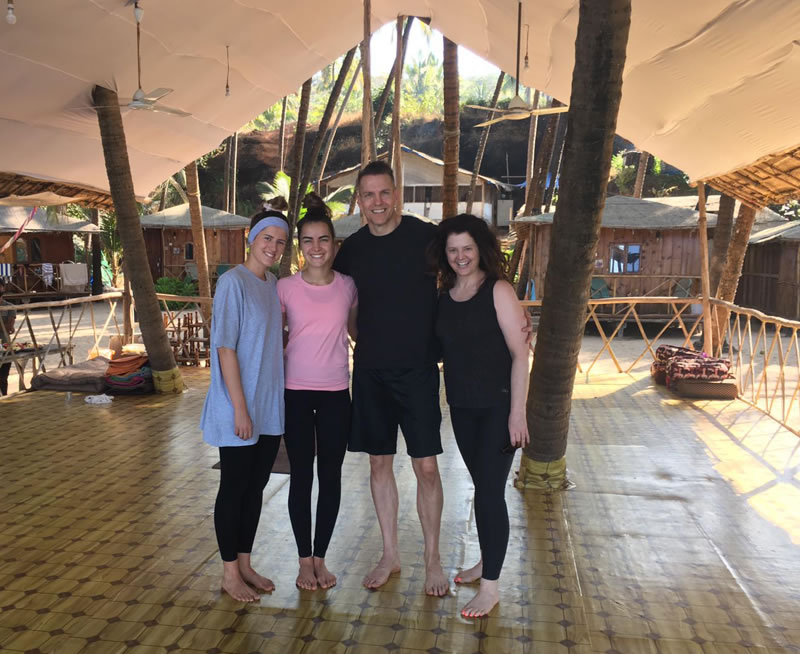 Our time in Goa was fascinating— there was no TV and the wifi was spotty so we often didn't have distractions besides a good book, yoga, meditation at sunset everyday and visiting with the people there. The dinners were served to us, as a group, outside each night- all vegetarian and delicious. And the conversations were fun and lively!
At the end of the week we flew to Delhi to see some of the highlights of India. We went from sleeping under a mosquito net in a primitive bungalow on the ocean to a giant hotel in the city. It was quite a change!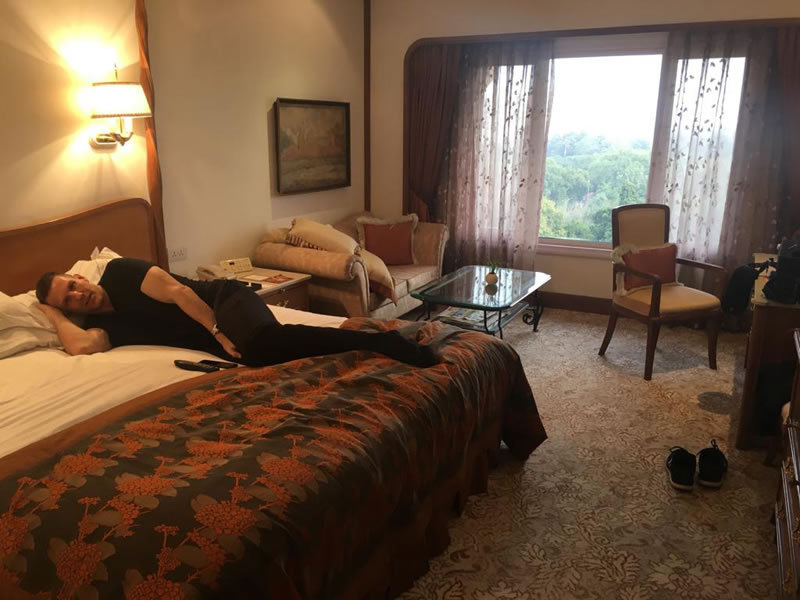 First on our schedule was a trip to Agra to see the Taj Mahal...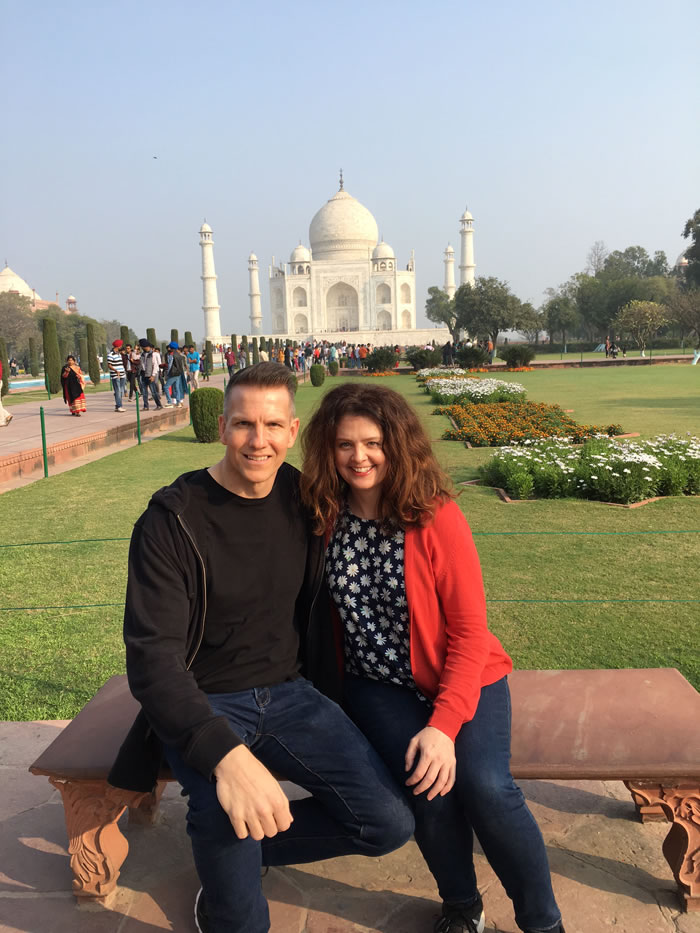 It's a tomb built from white marble for the Emperor's young wife in the 1600s. It's such an amazing work of art to experience. It absolutely glows in the sunlight. It's considered one of the New Seven Wonders of the World and when you are there, you can see why.
The next day we toured Old and New Delhi. We travelled into the spice markets by rickshaw.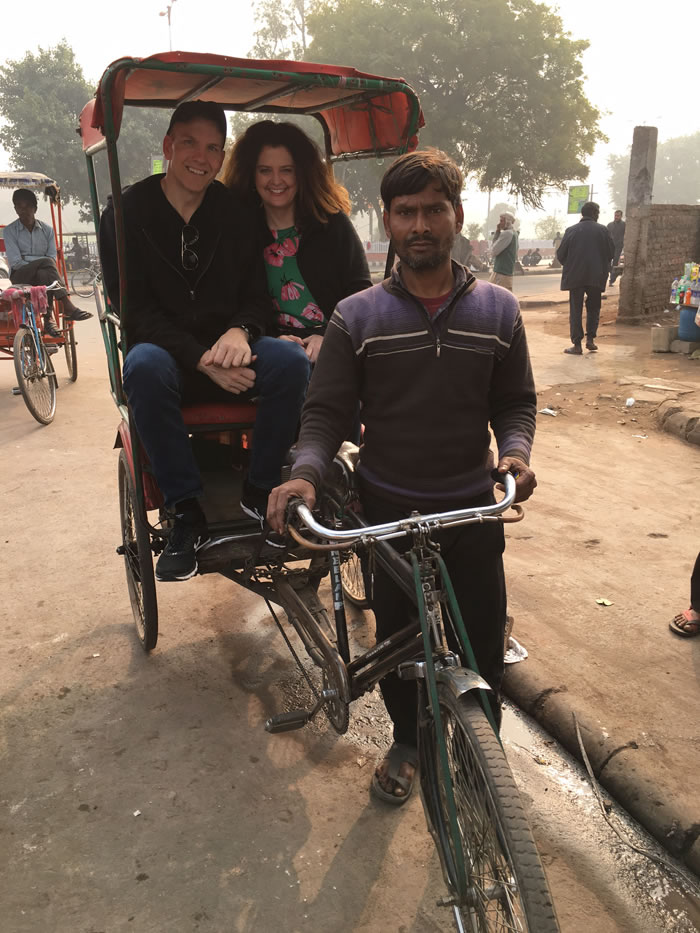 The spice markets are unlike anything I've ever seen. It was an intense experience for all of our senses.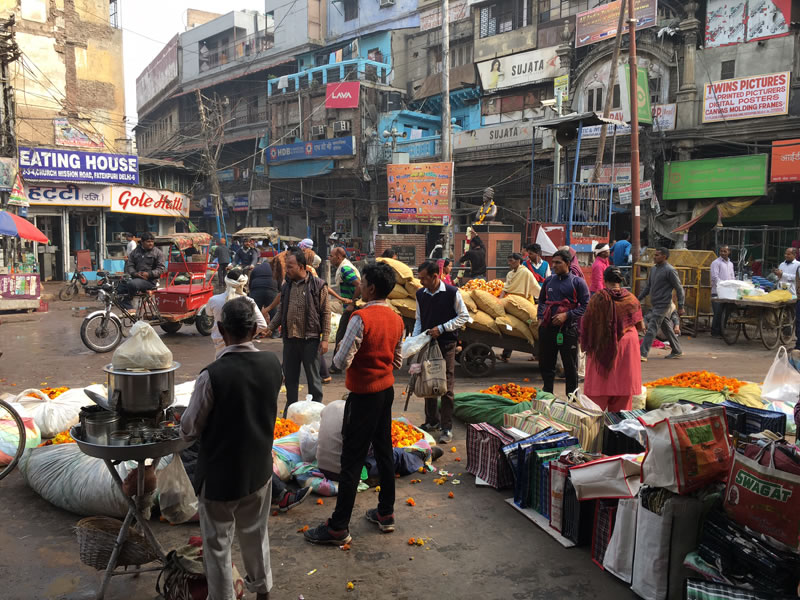 We then stopped to see Jama Masjid, the largest mosque in India. After walking around inside, we were making our way through the courtyard, headed for the exit when we were stopped by a father and his young son who didn't speak English. He was gesturing with his phone that he would like a picture. I assumed he wanted me to take a picture of him and his son in front of the mosque. But when I nodded, his son came and stood with Cheryl and I for a picture. And then the father wanted his picture taken with us. And that started something...
One by one, members from five families took turns posing with us for pictures— from very small children to elderly people. We're still not sure if it's because we were white, westerners or if they thought we were somebody.
We also spent a day in Jaipur, taking in the Amber Fort and City Palace where the Indian Royal family still lives today.
Visiting India was fascinating on every level. Cheryl and I were stared at a lot when we were out and about in the cities. But everyone was so kind to us.
And you often see things that you just wouldn't see anywhere else. Cows are sacred in India. You find them roaming freely everywhere—wandering on the sidewalks, on city streets, in traffic, and even on the highways.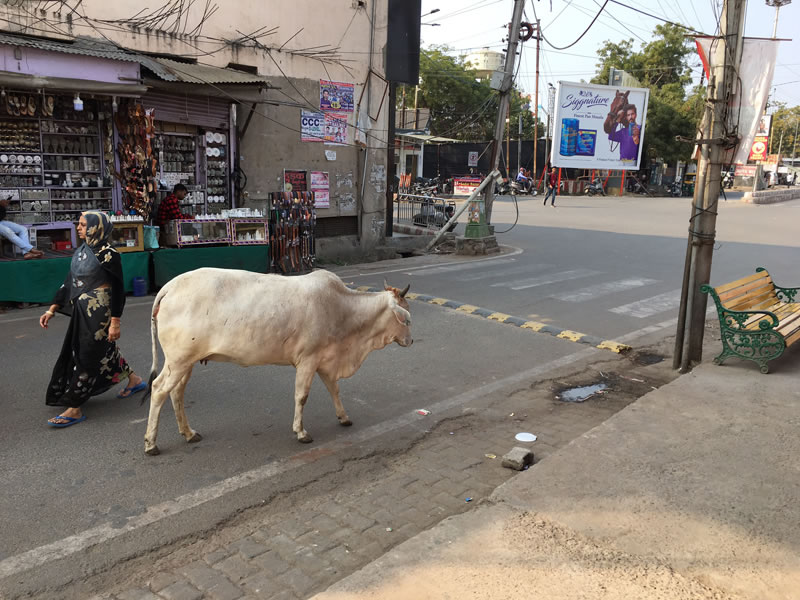 People there don't even seem to notice them, but we certainly did. Cheryl and I watched this cow walk up and I swear it looked both ways before crossing the road.
We loved so much about visiting India. It was definitely hard to get to. It took 36 hours to travel to Goa (between flying time and layovers in the airports). And it took 24 hours to get home. The jet lag was pretty rough because India is 11 1/2 hours ahead of the central time zone in the U.S.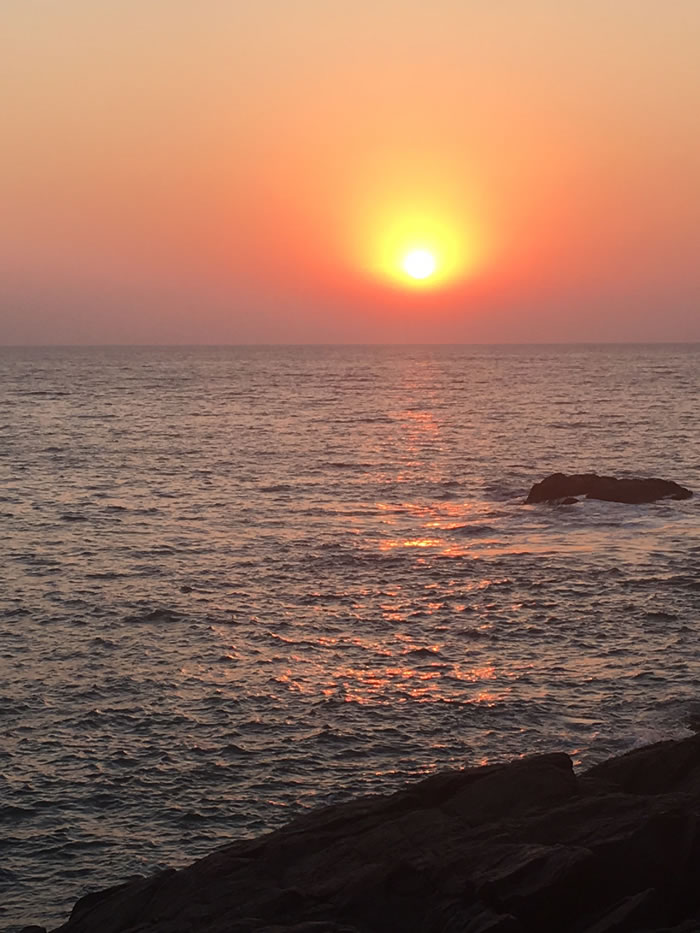 But seeing this amazing country was worth all of it. What an amazing experience!
Tuesday, February 11th, 2020
---
The Shark Report Launch Party!

Thanks to all the shark readers that came out to help launch my new chapter book The Shark Report on Saturday! It was a super fun day. I told the audience about my inspirations for Benny McGee's new book and showed an early painting of a boy and a shark that I'd included in my portfolio when I first traveled to New York to get published in 2001.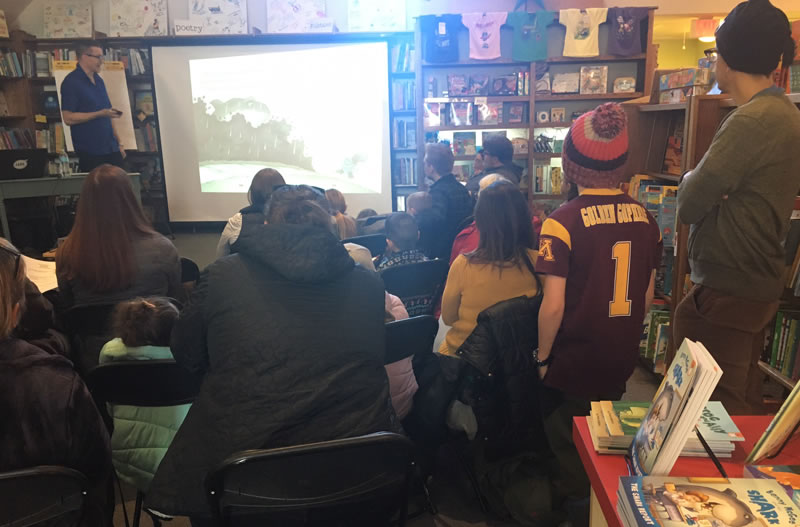 I read a few chapters of The Shark Report, showed how to draw Mr. Chompers and we even had a Shark Trivia Challenge (pictured here with the awesome Angela Whited from Red Balloon)!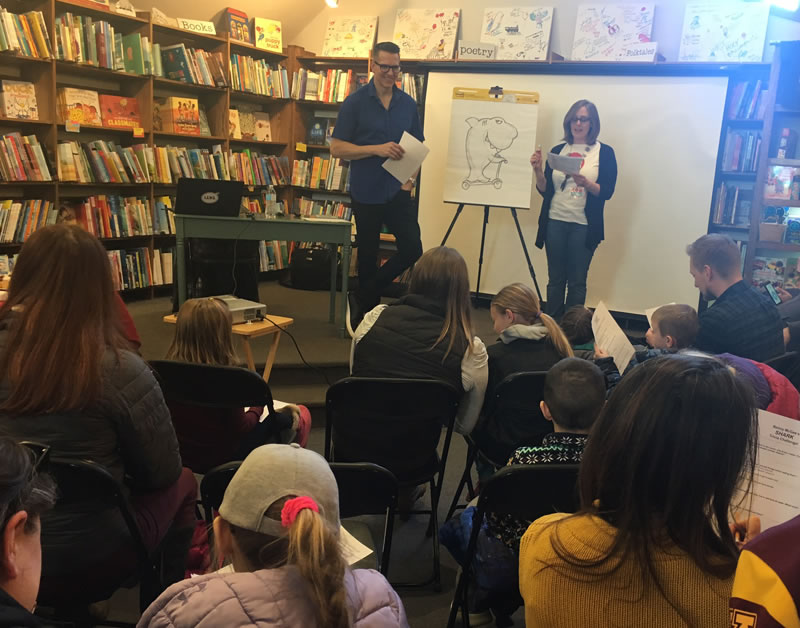 I get to meet so many great teachers when I'm out speaking in schools. This is Teresa Langton, a third grade teacher at Delano Elementary School. Teresa let me take photos of the desks and bulletin boards in her classroom while I was doing an author/artist in residency program at Delano Elementary School last year. I used those photos for reference while creating the cover of The Shark Report. It was so much fun to see her again!
Benny McGee and the Shark: The Shark Report is available now. You can pick up a copy and read about Benny's adventure with a great white shark today!
Wednesday, February 5th, 2020
---
Come and Help Celebrate
the Launch of
The Shark Report!
This event is free and open to the public! I will be showing fun, behind-the-scenes pictures from the making of the book, telling a real life shark story and reading and drawing, of course. There will be books available for purchase and signing.
If you or your young readers like sharks, you're going to have fun at this! Stop by Red Balloon and say hello!
Tuesday, February 4th, 2020
---
The Shark Report is Published TODAY!
Behind-the-Scenes of
The Shark Report:
Making the Cover
Creating the cover is one of the most exciting parts of making a book. It's also challenging. The cover needs to accomplish a lot of things—all at once.
The cover needs to give a glimpse into the characters and the world waiting inside the book without revealing too much. It needs to be dynamic, expressive and both grab your attention and invite your curiosity. And it has to communicate all of this, clearly, in a fraction of a second. When a reader glances at the image, they need to know, in an instant, what they're looking at. Welcome to the world of a book artist. That's what I wrestle with every time I create a new book.
For The Shark Report, I knew I needed to include both Benny and the shark on the cover. I began with rough sketches in my sketchbook. I filled page after page, trying everything imaginable. There are no right or wrong answers during the idea stage—the crazier the idea, the better. I tried different settings and different interactions between the characters.
I liked the idea of using Benny's classroom as the setting because this story is set against the backdrop of a report Benny has to write for school.
Once I'd settled on Benny and the shark in the classroom, I tried some different approaches. I tried one sketch with the shark leaning in through a window, but it felt cluttered and there wasn't room for the title. I ultimately ended up bringing the shark inside and removing the window.
I wanted Benny's classroom to feel like a real classroom. To do that, I had to get the desk, the chair and the details right.
I was doing a week-long author/artist in residency program at Delano Elementary School at the time. I was working with students on the power of writing stories and drawing characters. The teachers at Delano Elementary were so welcoming. One day, I told Teresa Langton, a third grade teacher who had helped coordinate my visit, that I was working on this cover. I asked her if I could take a few photographs of the desks and bulletin boards in her room while the students were at lunch. She kindly agreed.
And though Ms. Langton's classroom doesn't have green walls or hardwood floors, those photos were an excellent reference to achieve the details and overall feel of a real classroom.
Once my shark team at Penguin Workshop had the chance to review my sketches, they gave me the "go ahead" to begin work on the final painting.
Because this is a chapter book, I wanted to approach it differently than my other books. So I began with black pencil lines. I love the richness and character in those broken lines. I ended up using them on the interior illustrations as well.
I often use photo references to accomplish what I'm after while painting pictures for books. For The Shark Report, I looked at photos of great white sharks and the classroom pics I'd taken at Delano Elementary School to bring the piece to life.
You'll notice the painting extends far beyond the details that appear on the cover. When creating a cover, I always have to extend the picture on all sides and paint extra. We call that "bleed" in publishing, because an image "bleeds" off the edges. By extending the picture on all sides, we won't end up with white paper around the edges of the cover.
When I was finished with the painting for the cover of The Shark Report, I sent it to Senior Designer Julia Rosenfeld at Penguin Workshop in New York. Julia then experimented to find the right fonts and type treatments for the cover. Julia always surprises me with her creativity. She and Editor Renee Kelly have been such a fun and lively shark team to work with.
This is the final cover of The Shark Report...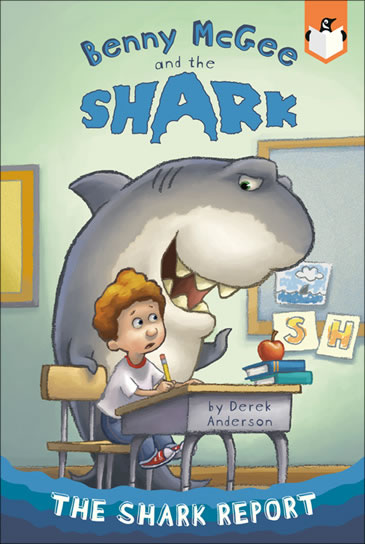 Benny McGee and the Shark: The Shark Report is officially out in the world today!
Monday, February 3rd, 2020
---
The Shark Report
is on
Amazon's Best Books of the Month!
The Shark Report was one of the picks by the editors at Amazon as a Best Book of the Month for ages 6-8. Get ready, my new chapter book The Shark Report will be out in the world tomorrow!
Wednesday, January 29th, 2020
---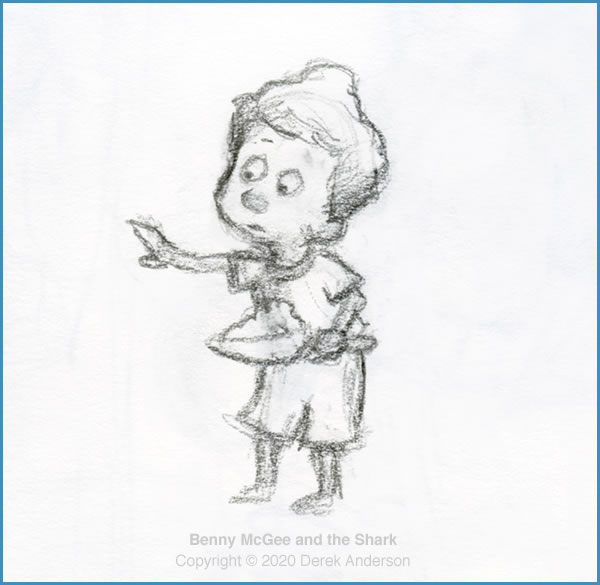 Bringing The Shark Report to Life
Choosing the right characters for a book like The Shark Report isn't all that different from a casting director in Hollywood choosing the right actors for a movie. Once I have a story written and a vision for how I want it to look, I have to find characters to bring it to life.
The Shark Report has two main characters—a boy named Benny McGee and a great white shark.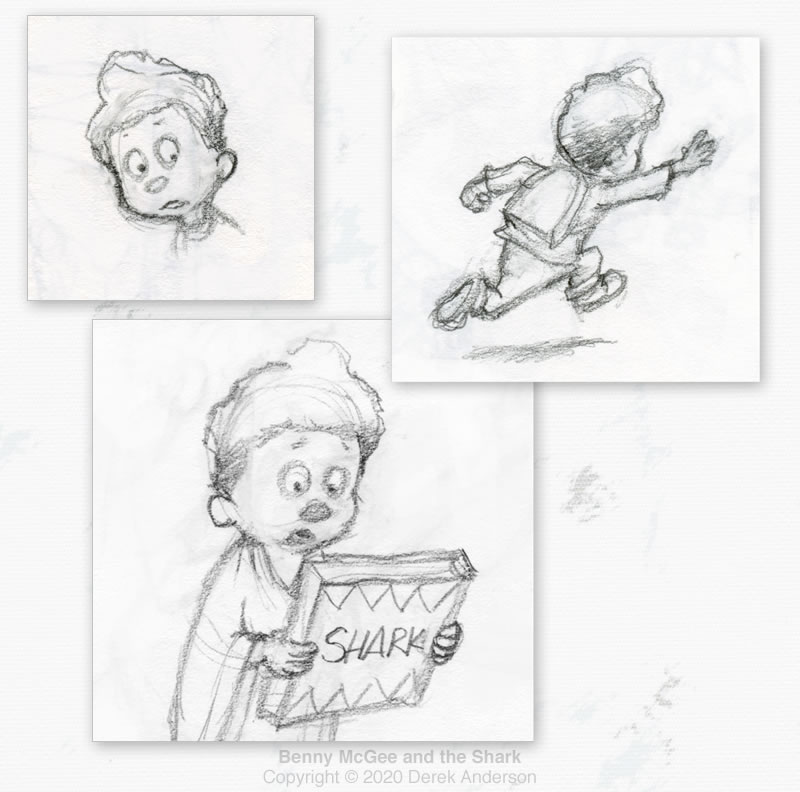 I won't say I create the characters because that isn't really how it works. They sort of show up in my sketchbook and that's where I discover them.
Benny came along very early in the process of making this book. Once I found him and got to know him, I had to figure out if he was right for the book— that meant a LOT of drawing.
I had to place him in different scenarios from the story to see what his reactions looked like. Some characters just don't work out and I have to move on and find someone better suited to the role. Benny was just right for this story.
Finding the right shark to be Mr. Chompers was no different. He needed to have the massive size, physical markings and presence of a great white shark. But he also needed to be a character.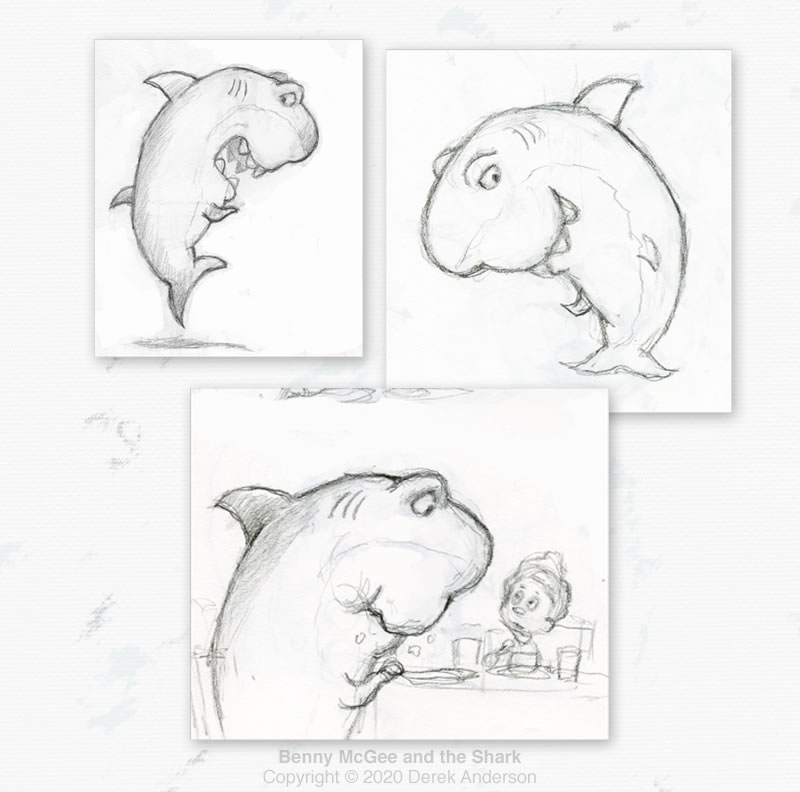 In The Shark Report the great white shark comes out of the water and follows Benny home. It took some time to figure out how he would move once he was out of the water. He's a real shark so he doesn't speak—which meant I needed him to step up and have a full range of emotions. He had to be able to appear menacing without looking mean, but I also needed him to show joy, contentment, fear and caring over the course of the story. That was a tall order for a great white shark. But he worked out perfectly.
Finding the right characters is so important. It's a lot less work for me when the characters shoulder the load and do their part to carry the narrative of the story.
There was a natural evolution that happened as Benny, Mr. Chompers and I got comfortable working with one another. We each found our place in the process of making this book.
It was a wild ride making The Shark Report. Writing chapter books is very different from writing picture books and early readers. With this book I had space to delve into the characters and explore their personalities and their world.
I hope you have as much fun reading The Shark Report as I had making it.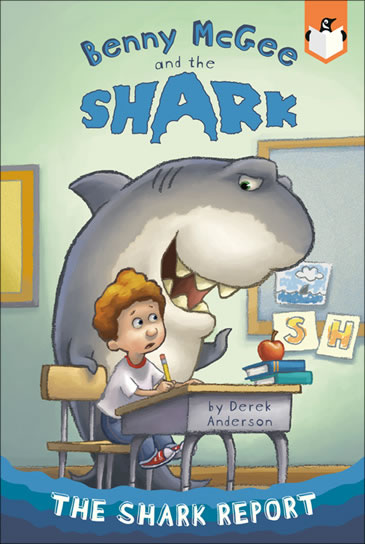 Benny McGee and the Shark: The Shark Report will be published on February 4th.
Wednesday, January 22nd, 2020
---
The Shark Report
Launch Party and Book Signing!
A special SHARK delivery just came! It's always a fun day when a brand new book arrives and I get to see it finished for the first time. I'm just glad our delivery driver didn't know what was inside the box. He might have been frightened if he knew he was carrying a box full of great white sharks!
Benny McGee and the Shark: The Shark Report is almost here!
Since this is my first chapter book and the folks at Red Balloon Bookshop are so good at throwing parties, they're going to hold a launch party for The Shark Report! You're invited on Saturday, February 8th at 2:00pm at Red Balloon in St. Paul!
I will be showing fun, behind-the-scenes pictures of the making of the book, telling some of my own real life shark stories, doing a shark drawing demonstration and signing books. There will be cake!
Bring a young reader (or shark lover) in your life for a fun SHARK EVENT!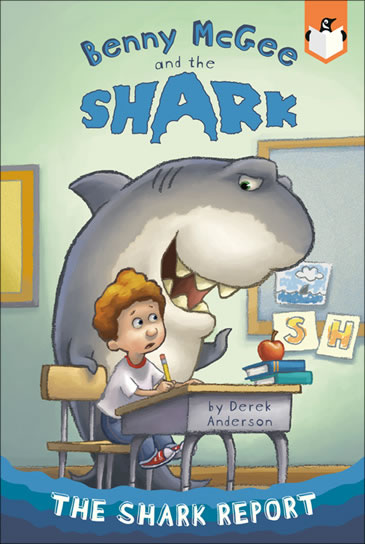 Saturday, February 8th
2:00pm
Red Balloon Bookshop
891 Grand Avenue
St. Paul
651-224-8320
---
Want a signed book but can't make it that day?
No problem, call Red Balloon and place an order.
They will even send it to you!
Tuesday, January 14th, 2020
---
My Life with Sharks
Years ago, my wife, Cheryl, and I took a trip to Belize in Central America to go scuba diving. The coral canyons off the coast of Belize stretch down more than a hundred feet beneath the surface of the ocean and are packed with sea life. Belize is known as one of the top diving destinations in the world.
One day we were on a boat in sixty feet of water preparing for a dive with a small group. Cheryl and I suited up and were the first in the water while the others were still getting on their tanks and gear. We were bobbing on the surface, waiting to descend, when someone on the boat yelled, "SHARK!"
It's odd what that word does to you when you're floating in deep ocean water. Cheryl and I had taken scuba classes and had gone diving a number of times by then. We knew what to do if we encountered a shark on a dive. We were even familiar with the different species of sharks. Those aren't the things you think about when you hear that word. You have to stay calm and try not to let that fight-or-flight response grip your body. The first thing I wanted to do was locate this thing so I knew what we were dealing with.
I quickly scanned the surface and couldn't see a dorsal fin or any sign of a shark, so I looked beneath me. I spotted the sleek, dark bodies right away. It wasn't one shark—there were two. And they were big! A pair of six-foot sharks were cutting through the water at a rapid pace in my direction. It took me a moment to see their shapes and markings and realize they were nurse sharks and probably wouldn't be interested in us. They made a quick turn and darted off, together, disappearing into the aqua blue. The whole thing was a little unnerving. Both sharks were as big as me and had been moving aggressively.
I grew up terrified of sharks. I can remember a number of family trips to the beach when I was hesitant to go in the water because I was afraid of sharks. It isn't an uncommon fear. We have some friends whose son wouldn't take a bath for most of his childhood because he was convinced a shark could get into his bathtub.
Sharks get a bad rap. If you've done any reading about them at all, you know they rarely bite people on purpose. Sharks aren't the monsters they're made out to be. As the Nobel Prize winning physicist Marie Curie said, "Nothing in life is to be feared. It is only to be understood."
So when I sat down to write my new chapter book for kids, I knew I wanted to explore my own fear and fascination with sharks. I settled on a boy named Benny McGee as my main character. Benny won't go in the ocean during a family outing to the beach because he's certain there's a shark in the water. There is a shark; it wouldn't be a good shark story without one.
As the first chapters began to take shape, something occurred to me. I wondered what it would take to transform Benny's fear into empathy. Actually have him transform from being afraid of this thing he sees as a monster, to feeling genuine affection and concern.
To do this, I needed Benny to interact with the shark. And since he clearly wasn't going near the water, there was only one way to get these two together—the shark comes out of the water and follows him home.
As the story unfolds, Benny comes face to face with both the great white and his fear. The story is set against a backdrop of a shark report that Benny has to write for school. So it presented a nice opportunity to mix in real shark facts that guide (and misguide) Benny's decision making.
This book was so much fun to create. It gave me a chance to take a deeper look at my own fear. I won't tell you what Benny learns from his experience with the shark, he can tell you himself in The Shark Report. But I've certainly gained a new appreciation for sharks after spending time in Benny's world.
It's easy to judge things we know nothing about. Sharks aren't monsters lurking in the waves, waiting to eat you. And they have no interest in navigating a complex network of narrow plumbing pipes to get into your bathtub. Your fears aren't about sharks, or whatever it is you're afraid of in this world.
Your fears are about you.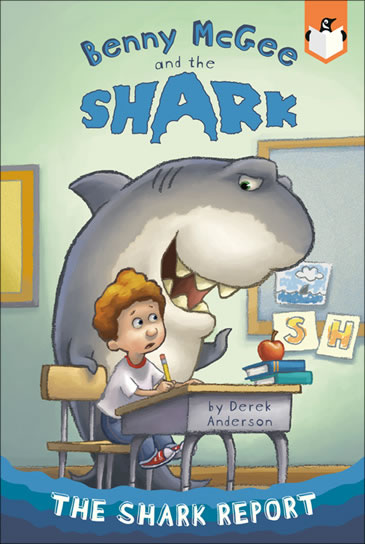 Benny McGee and the Shark: The Shark Report will be published on February 4th.
Saturday, January 4th, 2020
---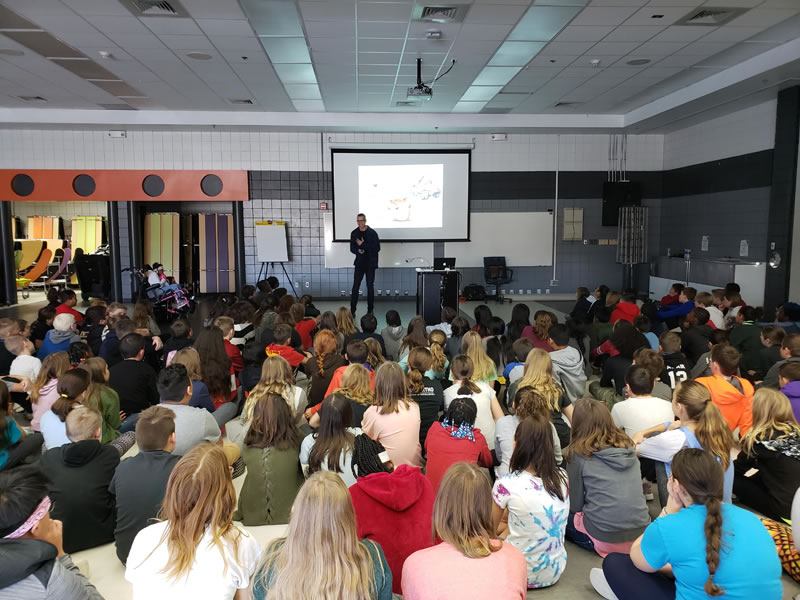 Fun at Westridge Elementary!
I had a terrific time with the staff and students at Westridge Elementary in West Des Moines in November. I returned home to a waiting deadline so there hasn't been much time for anything but drawing and painting since then.
Thanks so much to Elizabeth Larson whose excellent planning and hosting skills made our day extra special. Thanks to my minder for the day, Becky Reid Eschete, who always made sure I was where I needed to be and had everything I needed to have. And many thanks to Beth Brewer, the principal at Westridge Elementary, for your enthusiasm and warm welcome. What a fun day!