Monday, October 14th, 2019
---
Coming in August 2020!
2020 is shaping up to be the year of the shark. I was just given the okay to reveal the cover of my second chapter book coming in August 2020.
Benny McGee and his new shark friend have two adventures coming in 2020. The Shark Report will be published February 4th and We Are Famous! is coming August 4th! 2020 is going to be fun!
I will be revealing a whole lot more about Benny McGee's new books very soon. Stay tuned...
Tuesday, September 10th, 2019
---
Two FUN, Fall Book Events!
My new chapter book doesn't come out until February, but I have two fall events where I will be speaking, reading and signing books!
Saturday, September 21st
10:00am
Storytime on the Stillwater Trolley
Valley Bookseller
Stillwater, MN
Storytime on the Trolley is a ticketed event. I will be reading, telling some fun personal stories and drawing. Please visit Valley Bookseller's website for more information and to check availability for tickets HERE.
Saturday, October 5th
10:00am - 4:00pm
Deep Valley Book Festival
Loose Moose Saloon & Conference Center
Mankato, MN
I will be one of the keynote speakers at The Deep Valley Book Festival. This event is free and open to the public. I will be speaking at 1:00pm. This is going to be a lot of fun! You can visit their website for more HERE.
Wednesday, June 12th, 2019
---
Coming in February 2020!
I was just given the okay by my publisher (Penguin Workshop) to reveal the cover of my first chapter book coming in February 2020.
I was obsessed with sharks when I was a kid growing up in Ames, Iowa (okay, I might still be obsessed). So this book was so much fun to create. I can't wait for you to meet my new friend, Benny McGee (and the Shark), in February!
Wednesday, May 29th, 2019
---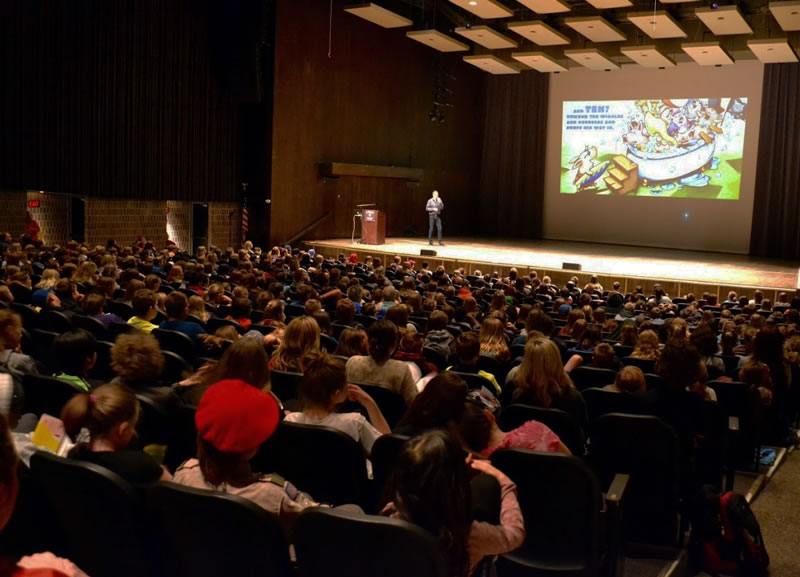 Author/Illustrator Derek Anderson delivering a Keynote about the power of the imagination to more than 500 students
(3rd through 6th grades) at the Young Authors,Young Artists Conference held at the College of St. Benedict in St. Joseph, Minnesota
Spring Keynotes & School Visits!
It has been a fun spring full of speaking, school visits, travel and very busy book deadlines!
On a cold, snowy February night, I kicked off "I Love to Read" month at Lake Harriet Community School's Read-a-thon where I presented to students and their parents. Minnesotans are some of the heartiest people I know. It doesn't matter how cold and snowy it gets, you always have brave souls who will never let winter stop them from having fun!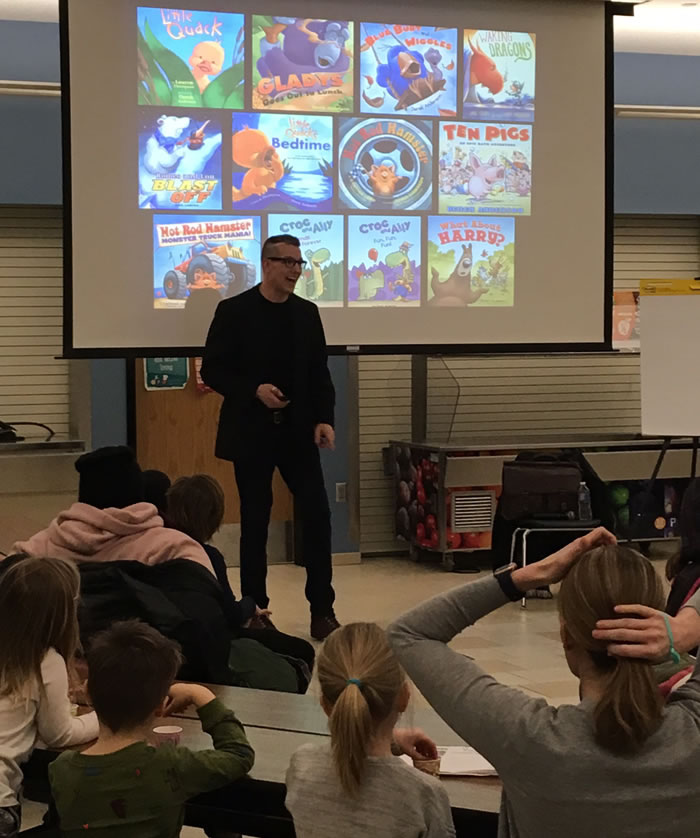 Thanks to Nikki Nethercot-Niermann for the invitation to speak!
That Saturday morning, I did a story time with the Bookhounds group from Family Fun Twin Cities at GoodKids in White Bear Lake. Thanks to Gianna Kordatzky for inviting me and to Megan Walsh at GoodKids for hosting.
The following weekend we had the launch party for my new picture book What About Harry? An excellent audience of kids and their parents showed up.
Many thanks to Angela Whited and the gang at Red Balloon Bookshop for hosting yet another release party.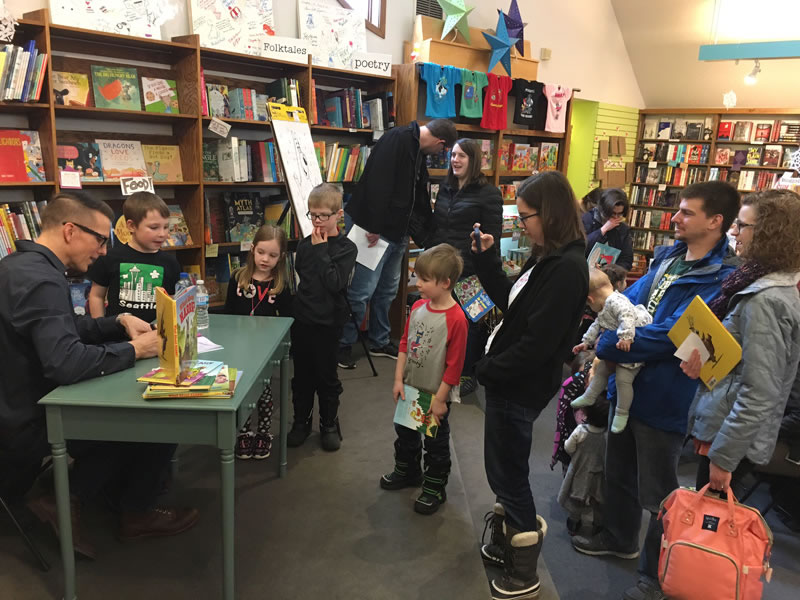 At the end of February, I spent a week at Delano Elementary School in Delano, MN. I gave one big presentation to the entire school (more than 650 students and teachers) and then did an Author/Artist in Residency leading workshops on writing and drawing for the rest of the week. Special thanks to Ashlee Emmerich for contacting me and to Teresa Langton for her excellent hosting.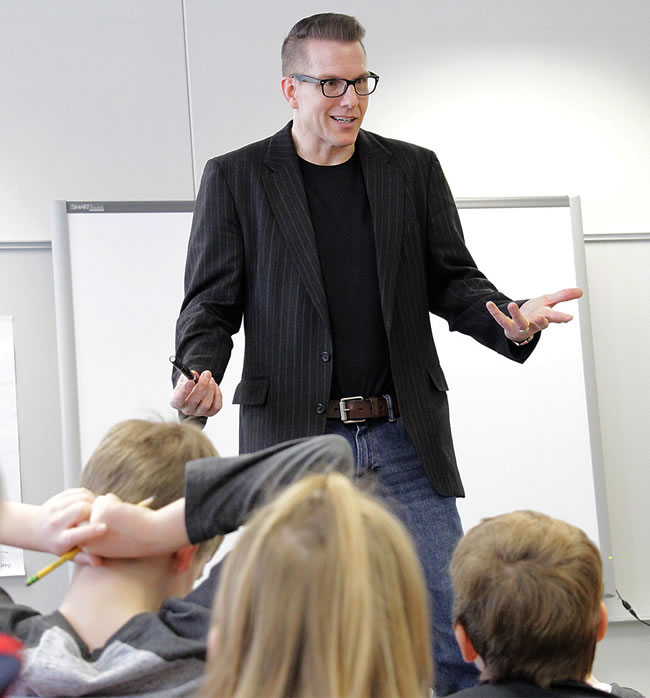 I spent my birthday in March with a gang of very excited elementary school students in Fairview, Pennsylvania. They decorated the windows, made posters and were ready with a warm welcome to celebrate my birthday (this was a big one)!
I love talking to students about books and the power of the imagination! And the kids in Fairview were fantastic!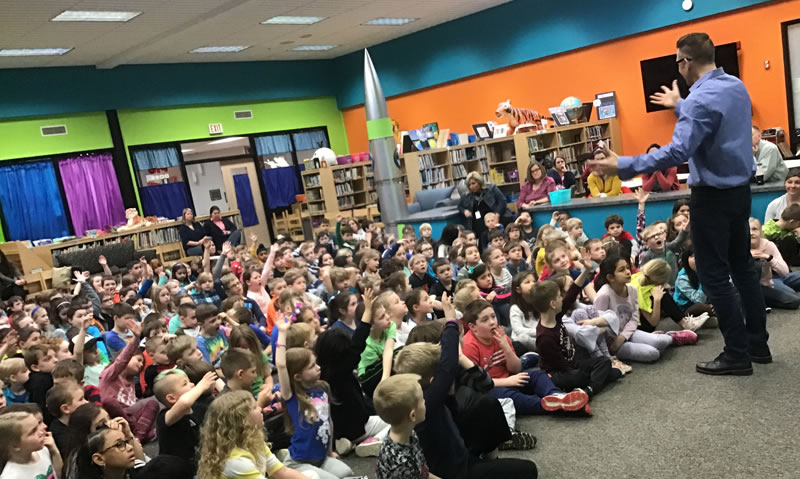 Endless thanks to Angela Gerber (on my left) and Sarah Drabant (right) for all their planning and hosting on this special day. And to their husbands, Jay Gerber (for giving me rides to and from the airport) and Matt Drabant (for driving me to school).
And thanks to these amazing parent volunteers who came in and helped out for the day. They were all so fun to visit with! They brought in birthday breakfast, lunch, birthday cake and they were ready and willing to help with everything throughout the day!
Angela and Sarah gave me a giant package of birthday cards made by the kids to read on my flight home. I had such a big smile on my face the whole way home. Their cards are amazing! A lot of kids drew Croc and Ally.
Hot Rod Hamster was included in all the fun!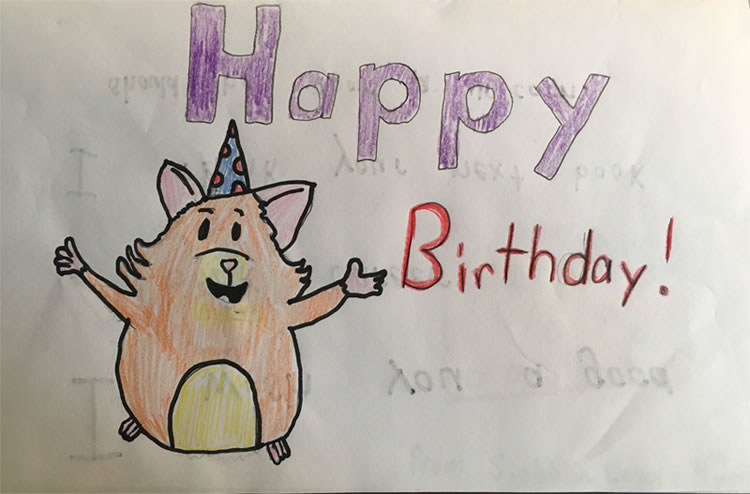 Some kids wrote heartfelt notes. There are no filters with kids, they are free to express themselves and they will always tell you what they really think.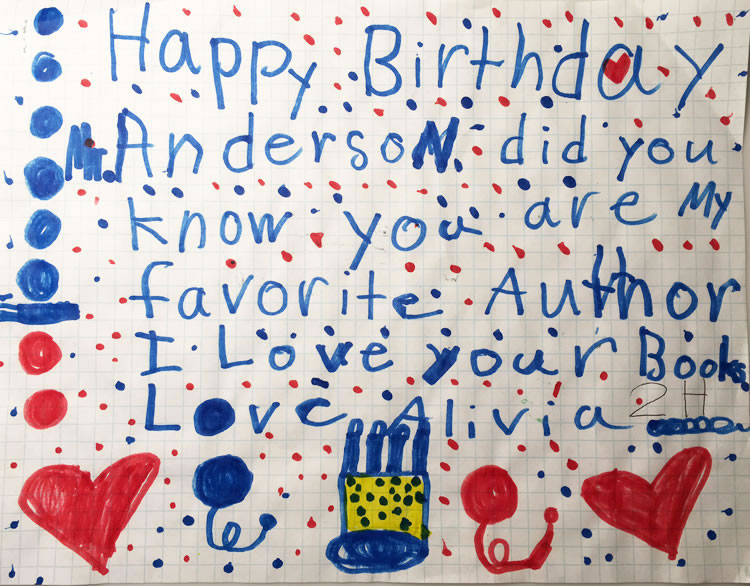 I always love to see how kids draw me. It's so interesting to see the world through their eyes. Anson's drawing looks just like me!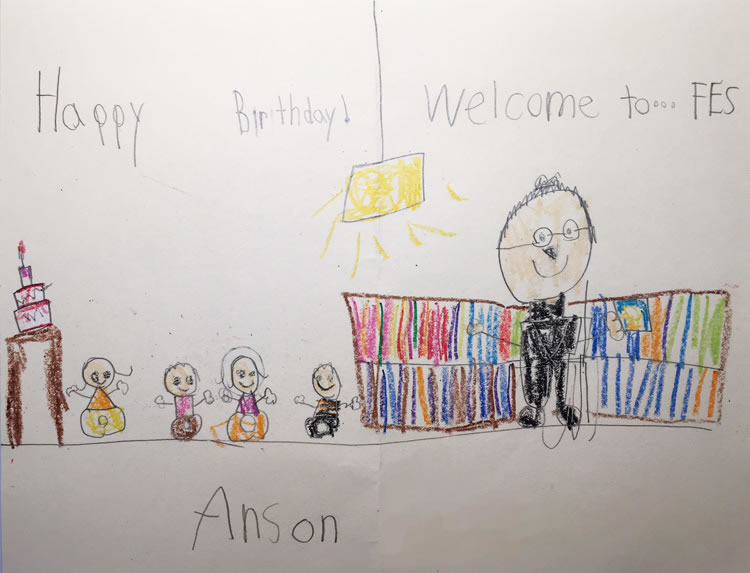 The next week I flew to Omaha, Nebraska, rented a car and drove to Norton, Kansas. Mary Boller and the gang from the Northwest Kansas Library System picked me up early the next morning and we headed off to the Mountain Time Zone to begin our day at West Elementary School where they have never had an author visit before. We then travelled to Quinter and finished that afternoon at the library in Hoxie.
Some of the kids had made posters that were hanging up in West Elementary to advertise the special event.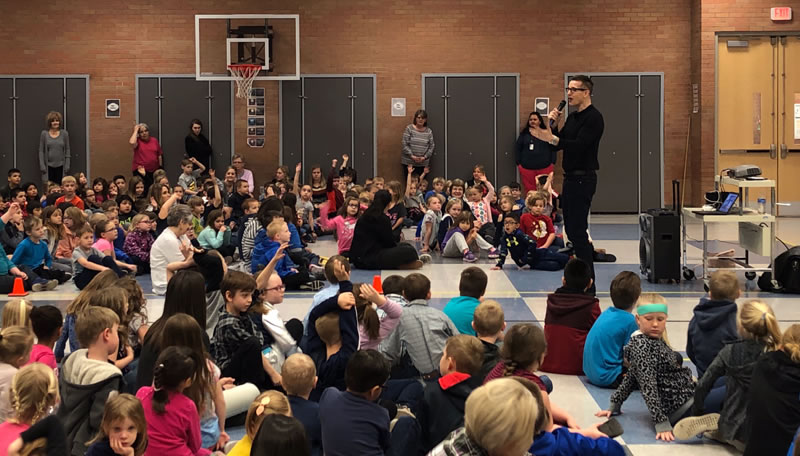 My favorite question from this trip came from a girl in Quinter. She asked, "What day did you become famous?"
Special thanks to Mary Boller, Jennifer Mapes, Heather Frew and Kama Mandl for arranging this visit, escorting me for the day and making all the travel extra fun!
Shortly after I returned home, a giant package of thank you notes arrived in the mail. When kids take the time to write, I always look at every drawing and read every note. Here are just a few...
Maleah wrote this very kind note and enclosed a drawing of Ally.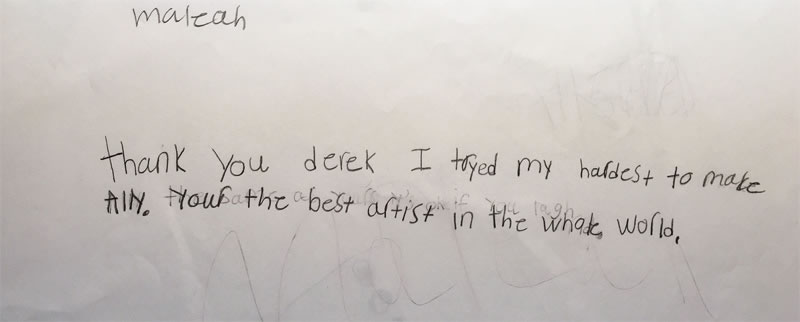 You did great, Maleah!
A lot of kids drew Ally from my Croc and Ally books. When I do drawing demonstrations at schools, I always want kids to come away thinking, "I can do that!" They can and they do!
I love how every single drawing of Ally is a little different. Each has SO much character! A lot of kids drew pictures of me. Francisco and I have the same hair! Nice job, Francisco!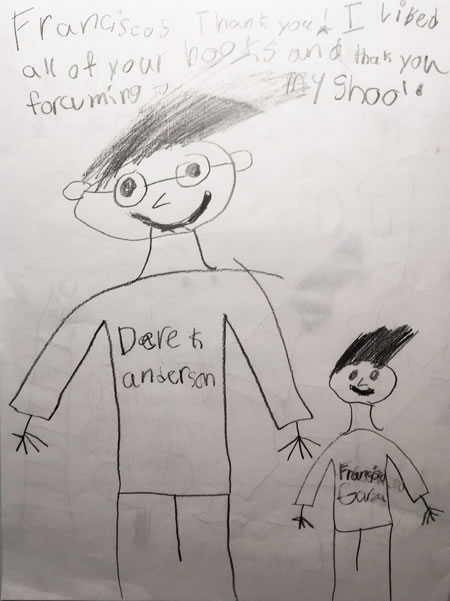 In mid-April, we held events in Ames, Iowa at the Iowa State University Book Store and Ames Public Library to celebrate the publication of my new book What About Harry? I always love going back to my hometown.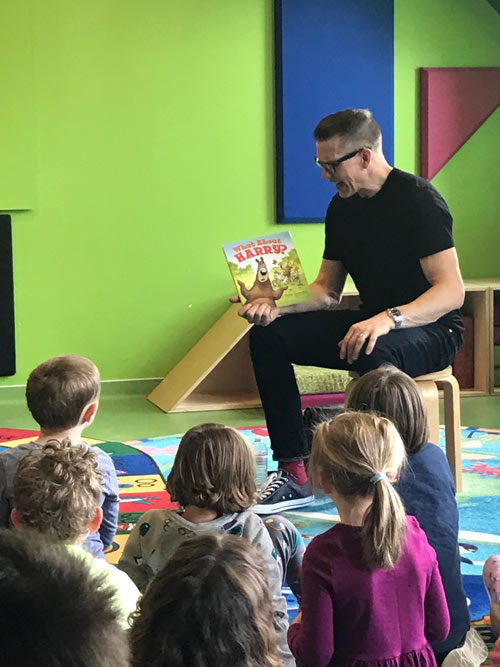 Many thanks to Gayle Mastbergen and Rachel Faircloth at Iowa State University Book Store and Jerri Heid at Ames Public Library for their support and planning!
In May, I traveled to Paris, Kentucky to speak at the elementary school during the day and then at their family night celebration that evening. It was great to return to Kentucky (I visited schools in Bowling Green last fall).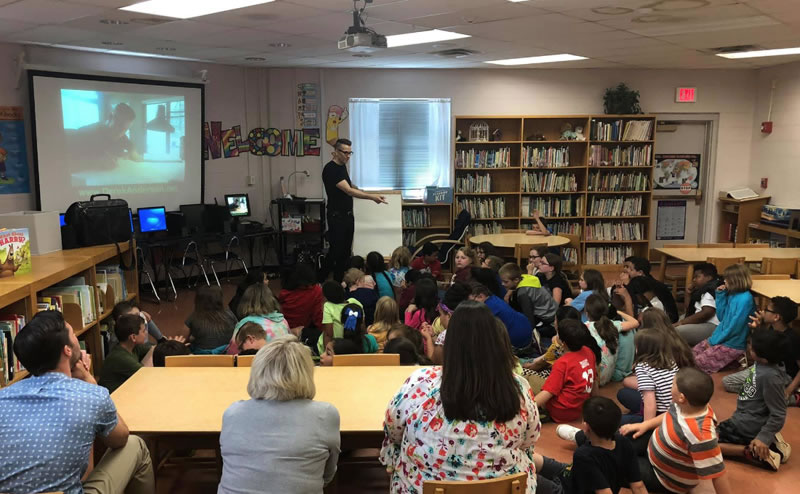 Special thanks to Ashley Norris and Amanda Evans for inviting me to come to Paris!
I returned home to a waiting book deadline. The interior artwork for my new book was due in just two and a half weeks and I wasn't done with my spring events.
A week and a half later I was off to St. Joseph, Minnesota to deliver keynotes for three days and lead workshops at the Young Authors, Young Artists Conference held at the College of St. Benedict. Deb Thomas had this event planned perfectly. Each morning, after opening remarks, I delivered the keynote to 500 3rd-6th grade students, their teachers and chaperones and the conference volunteers and other authors and artists. It was a lot of kids and a LOT of fun!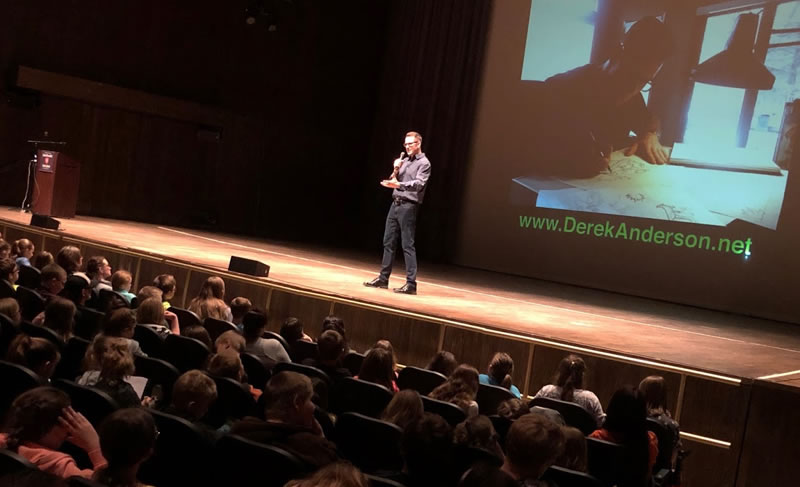 I always allow time for questions at the end of each presentation. I think it's important to hear what the students are curious about. The questions from the kids at this conference were impressive.
Special thanks to Deb Thomas at Resource Training and Solutions for inviting me to speak at this terrific conference!
Oh, and I made my deadline. My first chapter book is coming out in February 2020. Stay tuned for more!