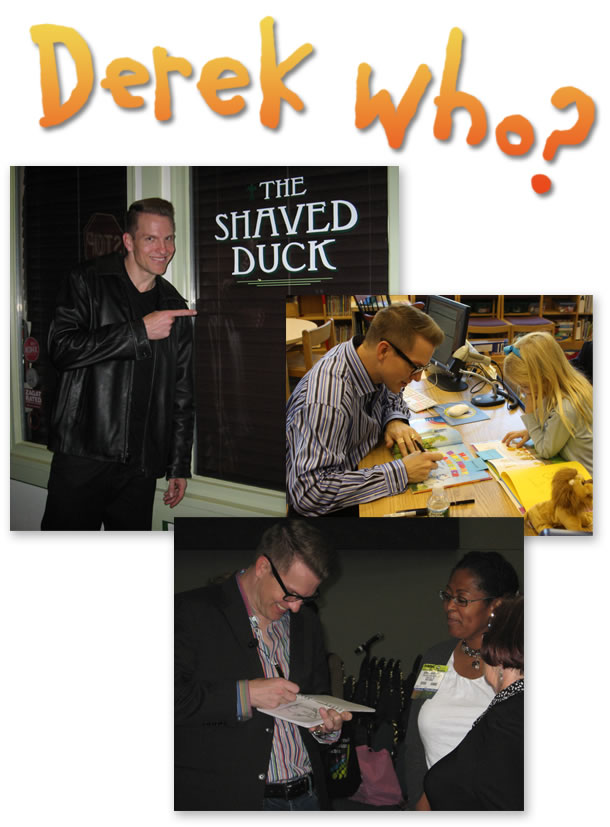 Clockwise from top left: Derek outside a restaurant in St. Louis, Missouri, signing books for a young reader in Montclair, New Jersey and signing autographs for teachers in Anaheim, California
Bestselling author/artist Derek Anderson drew the very first picture he can remember drawing when he was in kindergarten. It was a picture of the Easter Bunny. When he finished it, Derek took it down to the office and presented it to the principal of his school who hung it on the wall of his office for the rest of the school year. Derek's fate was sealed. From then on, he knew he was going to be an artist.
When he reached second grade, Derek wrote his very first story and he's never stopped writing or drawing since.

Derek illustrated Ready?Set.Raymond! by Vaunda Micheaux Nelson and Little Quack by Lauren Thompson, for which he received recognition as a Publishers Weekly Flying Start. Little Quack quickly became a New York Times bestseller and has gone on to great acclaim winning such awards as the ALA/CBC Children's Choice Award and the National Parenting Publication Gold Award. Derek also illustrated Little Quack's Hide and Seek, Little Quack's Bedtime, Little Quack's New Friend, Over the River: A Turkey's Tale, The Potty Train by David Hochman and Ruth Kennison, and Ballyhoo Bay by Judy Sierra, which was named a "Best Book of the Year" by Bank Street College of Education.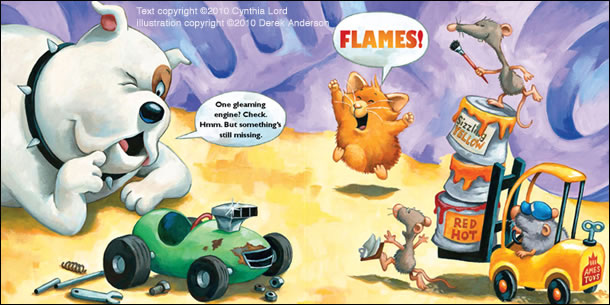 Hot Rod Hamster was published in 2009 by Scholastic Press. Written by Cynthia Lord (Derek illustrated), Hot Rod Hamster appeared on the Publishers Weekly bestseller list, was on Bank Street College of Education's "Best Books of the Year" list for 2011, received a Parents' Choice Award, the South Carolina Picture Book Award, the state of Mississippi's Magnolia Award and the state of Wyoming's Buckaroo award. Its sequels, Happy Birthday, Hamster and Hot Rod Hamster: Monster Truck Mania! have become reader favorites.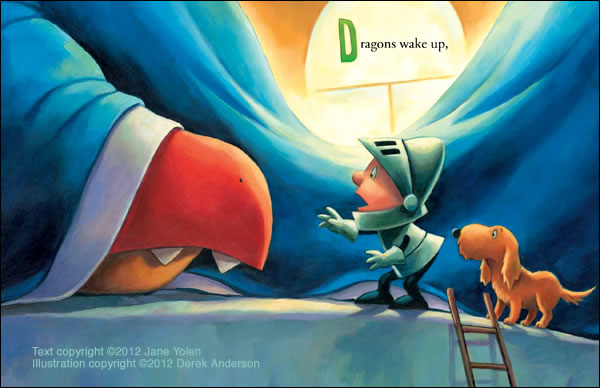 Derek also illustrated Waking Dragons by Jane Yolen, which was published in October 2012 by Simon & Schuster Books for Young Readers.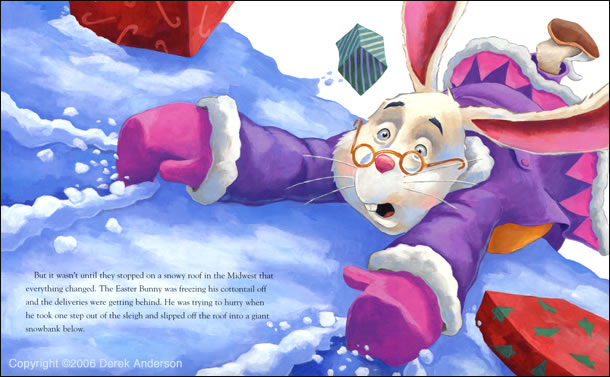 Derek has authored many books including Gladys Goes Out to Lunch, Blue Burt and Wiggles, How the Easter Bunny Saved Christmas, Romeo and Lou Blast Off, which was named one of the best books of 2007 by Parent & Child Magazine, and Story County: Here We Come! about five friends (Farmer, Dog, Pig, Chicken and Miss Cow) who set out to make a farm.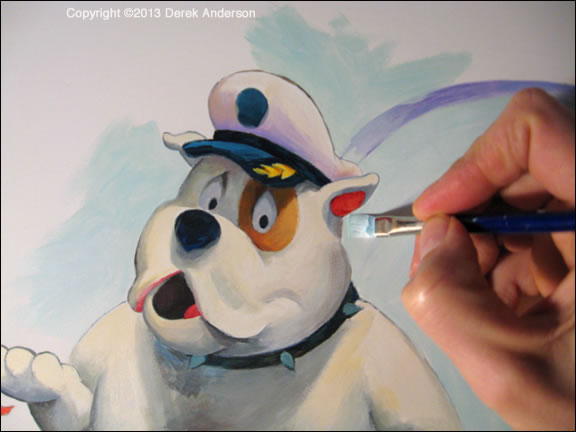 Derek's newest titles have been published under the Orchard imprint at Scholastic. Ten Pigs: An Epic Bath Adventure was selected by Once Upon a Reader, a literacy program in the state of Minnesota, to be their focus title for 2016. And his newest book Ten Hungry Pigs, a sequel to Ten Pigs: An Epic Bath Adventure will be published in May 2016. You can find out much more about Derek and how he works on his journal page HERE.
For an archive of past news about Derek and his books, click HERE.