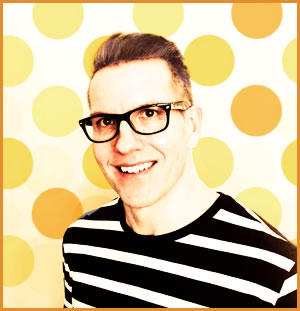 Derek Anderson drew the very first picture he can remember drawing when he was in kindergarten at Roosevelt Elementary School in Ames, Iowa.
It was a crayon drawing of the Easter Bunny.
When he finished it, Derek walked it down the hall to the office and proudly presented it to Mr. Berhow, the principal of his school. Mr. Berhow displayed that picture on the wall of his office for the rest of the school year. Derek's fate was sealed. From then on, he knew he was going to be an artist.
When he reached second grade, Derek wrote his first story and he's never stopped writing or drawing since.
After graduating from college, Derek set his sights on becoming an author and illustrator of children's books. His road to publication would be a long, difficult one. Derek began writing stories and painting pictures to submit to publishers. It would be years before his work was strong enough to capture anybody's attention. Even then, the responses were no. After years of submitting his work and nothing to show for it but a stack of rejection letters and a lot of paintings, Derek was growing discouraged. He knew he had to make a change.
One day, he threw away the folder that he'd used to keep track of publisher submissions. He got out a new one and wrote THE BOOK SCORE across the top of it in large bold letters. It was now a game. From that day on, Derek began collecting rejection letters. This was just the shift in mindset he needed— the pressure was off. He was free to develop his work and continue growing as a writer and artist. When a publisher sent him a rejection after that, he simply added it to his collection. His work grew stronger and more playful over the following months and editors and art directors took notice. He soon began receiving letters of interest and calls about his work.
After taking his portfolio to New York in the spring of 2001, Derek got the opportunity he'd been waiting for. Random House offered him the chance to illustrate an early reader called Ready? Set. Raymond! by Vaunda Micheaux Nelson. It was a great experience. And then Derek was offered a picture book that would change everything. Little Quack by Lauren Thompson was a perfect fit for Derek's work. Little Quack was published to glowing reviews and Derek was named a Publishers Weekly Flying Start. Little Quack would go on to become a New York Times bestseller and garner awards including the National Parenting Publication Gold Award and the IRA/CBC Children's Choice Award. Over the following years, it grew into a series that would sell millions of copies around the world.         
Derek has created more than twenty-five books for children since then. He has illustrated books by Lydia Maria Child, Judy Sierra, Jane Yolen, David Hochman and Ruth Kennison and the award-winning Hot Rod Hamster series written by Cynthia Lord. Derek has written eleven books including Gladys Goes Out to Lunch, Ten Pigs: An Epic Bath Adventure, Ten Hungry Pigs, Croc and Ally: Friends Forever, Croc and Ally: Fun, Fun, Fun!, What About Harry? and his forthcoming chapter book Benny McGee and the Shark: The Shark Report. 
Derek's books have appeared on the New York Times bestseller list, the Publishers Weekly bestseller list, Bank Street College's Best Books of the year lists and garnered awards including the National Parenting Publication Gold Award, the CBC Children's Choice Award, the Parents' Choice Award, the state of Wyoming's Buckaroo Award, the state of Mississippi's Magnolia Award and the South Carolina Picture Book Award.
Derek lives in Minneapolis, Minnesota with his wife, Cheryl, and their dog, Louie.