The Little Quack Plush is Here!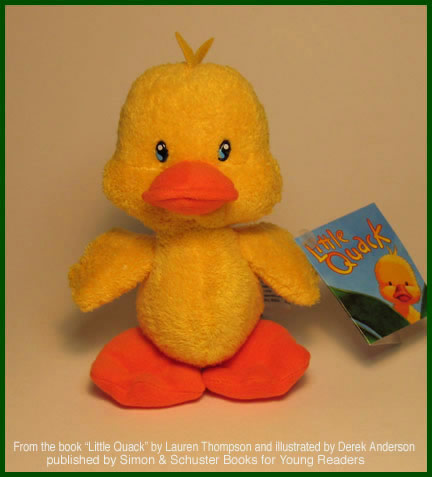 Many thanks to all those who have been asking about this. We're proud to say, it's finally here. The brand new Little Quack plush doll is now hitting stores. Produced by MerryMakers, this soft recreation of the character from Lauren Thompson and Derek Anderson's Little Quack series of books stands approximately six inches tall. MerryMakers worked very closely with Derek and Simon & Schuster to produce a plush duckling that stayed faithful to Derek's artwork. And it's just the right size for little hands! You can find the Little Quack plush at your local bookstore or online. To order online, please click Here.
Hear Derek Read on Storyline!
Derek can be heard reading his new book, Gladys Goes Out to Lunch for one week only on Storyline. Storyline is a free phone service where kids can call in 24 hours a day to hear a story chosen for that week. The call doesn't cost anything if you're in the Twin Cities area. If you're not, it's simply the cost of a long distance phone call. This month's theme is "Joy." And if you've read it, you know that Gladys Goes Out to Lunch fits the theme nicely. Derek's recording will only be up for one week - from Sunday, July 24th until Midnight on Saturday, July 30th. And if you listen to the very end, you can hear Derek talk about some of the secrets hidden in his book.

You can listen by dialing 952-352-1350.

To learn more about Storyline, please click HERE.

---
The First Gladys Review!
The first Gladys review has come in from Kirkus Reviews and it's terrific! After a wonderful summary of the story, they write, ..."Like Gladys's bananas, Anderson's story is simple comfort food, with eye-candy artwork providing a welcome dash of spice." For the complete review click HERE.

---
Derek's Snowflake for Robert's Snow
You could own this unique piece of Original Art!
*Note: Snowflake pictured above is not the actual size
It measures approximately 5.25" from top to bottom

Derek has completed his painting for the second annual Robert's Snow for Cancer's Cure. Have you heard of Robert's Snow? Nationally recognized children's book illustrators paint original snowflakes and they're auctioned on ebay with 100% of the proceeds going to cancer research. Last year, Robert's Snow raised more than $100,000 for cancer research. You could own an original piece of art by Derek Anderson or one of the many other talented artists participating this year. You can contribute by simply buying a piece of unique art! The snowflakes will be displayed on the Robert's Snow website this summer and bidding will begin on ebay this fall. Please visit Robert's Snow by clicking HERE.