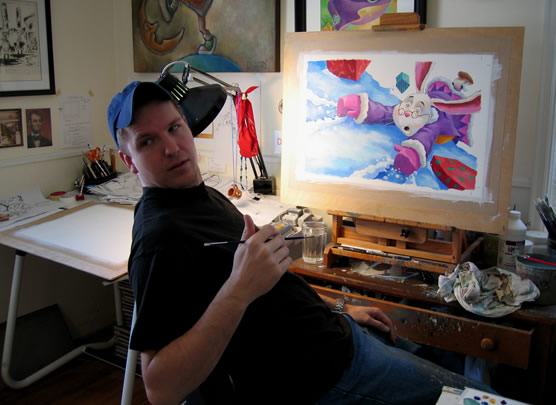 Derek at The Red Balloon Bookshop
Saturday for Children's Book Week!
Children's Book Week is May 11- 17, 2009! Books are more important than ever. In this age of television, video games and media saturation, kids need a chance to escape this noisy world and exercise their imaginations. Reading is a perfect escape, and so is writing and drawing. Sometimes kids just need an opportunity to take their own ideas for a walk. That chance is here!

On Saturday, May 16th, The Red Balloon Bookshop on Grand Avenue in St. Paul will be hosting a bookmaking event for kids. From 1:30pm till 4:00pm in the afternoon, kids are invited to come and make books of their own. There will be different stations set up, and Derek will be the illustration coach- helping kids create characters, put them into pictures and ultimately make their very own books.

The Red Balloon is one of the finest children's bookstores that exists (yes, even the publishers in New York are well aware of our little treasure here in the Twin Cities). If you're in the area or just want to come to a really fun event, stop by The Red Balloon on Saturday!

Saturday, May 16th
1:30pm- 4:00pm

The Red Balloon Bookshop
891 Grand Avenue
St. Paul, MN 55105
651-224-8320
---
Derek to Read/Sign at
Iowa State University Book Store
Derek's brand new book Ballyhoo Bay is in stores!
Are you going to be in or near Ames, Iowa on April 25th?
Come by and say hello! Derek will be doing a special storytime-
reading, drawing and signing copies of his newest book.
Saturday, April 25th
10:30am
University Book Store
Memorial Union
Iowa State University Campus
Ames, Iowa
---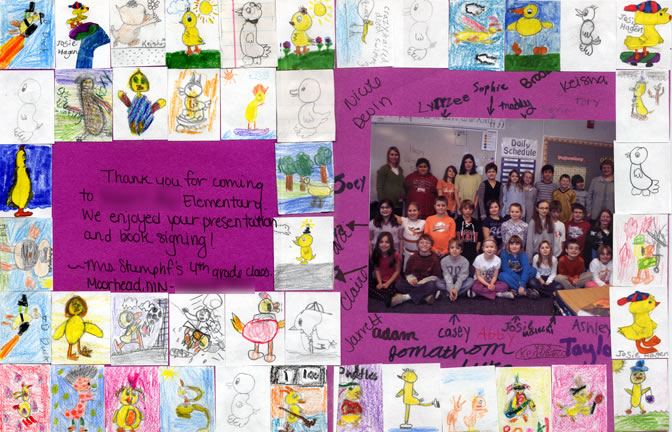 Student Art!
One of the things Derek loves most about visiting schools is seeing the amazing artwork by students. And it means so much when the students draw their own versions of Derek's characters. Above is a thank you note Derek received from one of the classes in Moorhead, Minnesota where he visited in February. All of the students did their own renditions of Little Quack. Many thanks for the awesome artwork!

And it's always great to receive notes of thanks. Thanks Greta, Derek loved visiting your school!