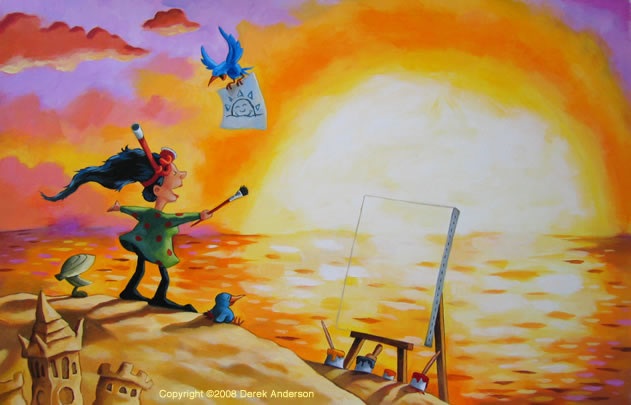 Derek to Read/Sign at The Red Balloon
Ballyhoo Bay is in stores! Come and watch Derek
read, draw and sign copies of his newest book.
This Saturday, March 28th
10:30am
The Red Balloon Bookshop
891 Grand Avenue
St. Paul, MN 55105
Can't make it? Call The Red Balloon, order a copy
of the book and have it signed and sent to you!
651-224-8320
---
The First Reviews of Ballyhoo Bay are Here!

Ballyhoo Bay, the brand new picture book written by Judy Sierra and illustrated by Derek is splashing into stores on February 24th. The first reviews are here! School Library Journal says, "Lively, humorous acrylic cartoons have a buoyancy that captures the sparkle of the seaside setting and the exaggerated antics of the characters. This upbeat ecological message is delivered with plenty of panache..."

And Kirkus Reviews calls it "...A pleasant romp into the serious business of the environment and democracy." Come along and see how Mira Bella and her art students rise up to save their beloved Ballyhoo Bay.

You can read the full reviews by clicking HERE.

---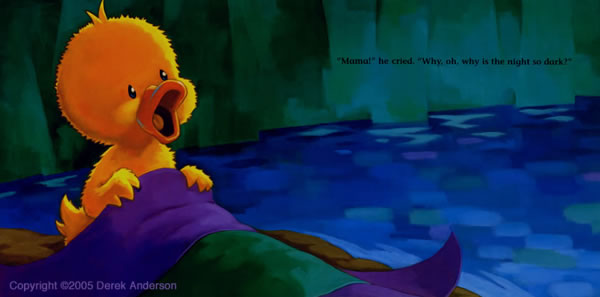 Little Quack's Bedtime is Back!
~ Now in a Classic Board Book Edition ~
Widdle, Waddle, Piddle, Puddle and Little Quack are back in the bedtime favorite, Little Quack's Bedtime. Winner of the National Parenting Publication Gold Award and chosen as a Parenting Picks- Best Book by Parenting Magazine, now Little Quack's Bedtime is being published in an edition smaller and sturdy enough for Lauren Thompson's and Derek Anderson's youngest readers.

---

Get Your Poems!

Poems, poems everyone needs a poem. And The Bill Martin Jr. Big Book of Poetry has them! Author Bill Martin Jr. (he wrote Brown Bear, Brown Bear, What Do You See? and many others) was working on this anthology at the time of his death several years ago. And it's finally on bookstore shelves.

The Bill Martin Jr. Big Book of Poetry is absolutely packed with poems and illustrations! Derek contributed ten paintings to this 176 page whopper of an anthology. Get your copy wherever fine children's books are sold.
---
Romeo and Lou Blast Off
into Cheerios!
Reluctant explorers Romeo the penguin and Lou the polar bear can be found blasting off in more than a million boxes of Cheerios this fall! Derek's book Romeo and Lou Blast Off was selected as one of five books chosen for Spoonfuls of Stories, a literacy initiative program sponsored by Cheerios and First Book to get books into the hands of kids from low-income families.

From now until January 2009, A free "child-sized" copy of Romeo and Lou Blast Off will be included in more than a million specially marked boxes of Cheerios.

Derek is honored to once again have his work included as a part of this amazing reading program. (Derek has had two other books included in Cheerios as a part of this program in past years. Little Quack was in Cheerios in 2005 and Little Quack's Bedtime was in Cheerios in 2006). Many thanks to the folks at General Mills! Thanks also to First Book for all of their great work, and to Simon & Schuster who helped make it possible.


If you're interested, your family can make a donation to First Book using special donation forms included on Cheerios boxes. One hundred percent of the funds will be used to buy books and the donations will be sorted by zip code, with books going back to the communities where the donations came from.


If you would like to learn more about Spoonfuls of Stories, click HERE.