Derek LOVES to Visit Schools!
One of the best things about being an author and illustrator of children's books is visiting with the many fantastic readers in the schools. Derek does a number of school visits every year. And we haven't reported on them a lot here, so we're going to make up for lost time and give you a glimpse of some of the special moments in recent school visits...

---

In fall 2007, Derek visited the awesome St. Paul Academy where he was surprised to see larger-than-life cutouts of his characters adorning the hallway walls. They went to a lot of work to make our days together extra special!


Little Quack or Big Quack?


Derek and Wiggles Living Large!

---

In December, Derek returned to his home town (Ames, Iowa) where he visited some local schools and signed at a bookstore and the public library. He's pictured below showing one of the original paintings from his book, Romeo and Lou Blast Off. Pictured with Derek are his superstar artist niece, Mackenzie, and his sports-hero nephew, Jack, who are twins, in first grade and live near Ames.


Derek Gets Help from his Niece and Nephew

---

In January, Derek flew to Washington, Missouri to speak at two schools and the public library as a part of their Book Buzz program. Derek had an absolute blast in Washington. It's a fun little town just outside St. Louis, and make no mistake about it- they take reading seriously there. The kids had great questions! Special thanks to Chris Stuckenschneider, Dawn Kitchell, Karen Cernich and everyone at the Missourian for their hard work and hospitality. And endless thanks to Jeanne for the pictures!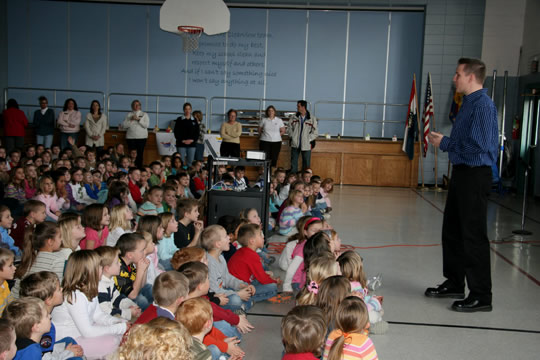 Derek at Clearview Elementary School

Derek at St. Vincent in Washington, MO

A Quick Drawing Lesson with the Soon-To-Be-Famous Aubree
---
In February, Derek received a warm reception at Groveland Elementary School (which is really appreciated when you spend February in the sub-zero temperatures of Minnesota). One of Derek's all time favorite things is receiving letters from students after visiting a school. Below is one very talented student's drawing of Little Quack along with a note in which she says she wants to be an author/illustrator. Many thanks to her mother for sending it along!
---
In March, Derek travelled to Southeast Iowa where he visited three schools in two towns. First was Williamsburg, Iowa where Derek had a great time with the staff and students.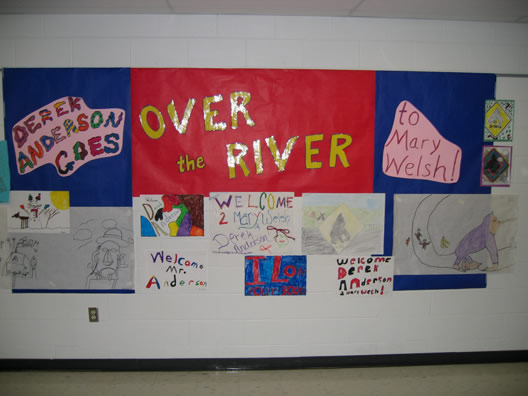 A Fabulous Welcome to Mary Welsh Elementary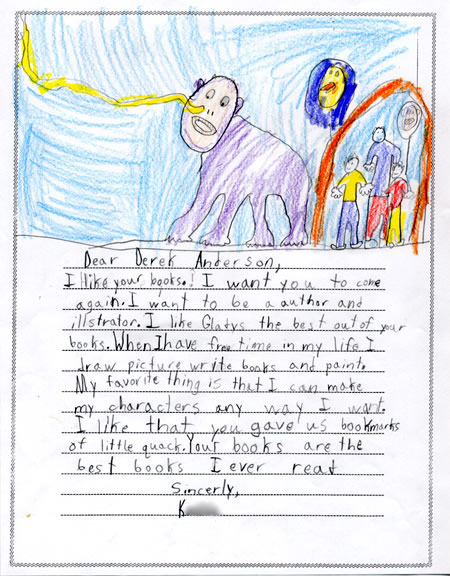 A Letter from a Future Author/Illustrator
---

And then Derek went on to Washington, Iowa where he was greeted with a giant painted welcome in the front windows of the school. Stewart Elementary School was a real study in creativity. Kathleen Kishel and the many terrific teachers there incorporated Derek's characters, stories and books into all aspects of the curriculum for months before Derek's visit. They cleverly got the students excited about reading and literacy by using the stories and characters as a launching point for lessons of all kinds. These teachers know how to use their imaginations!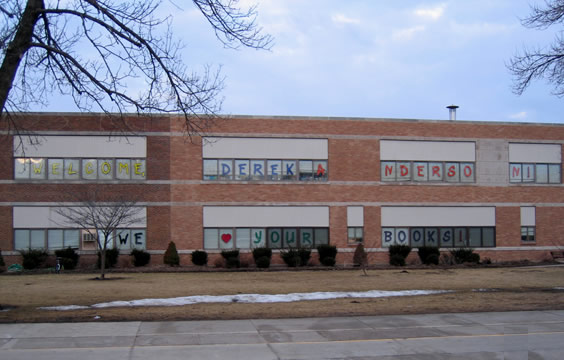 What a Welcome!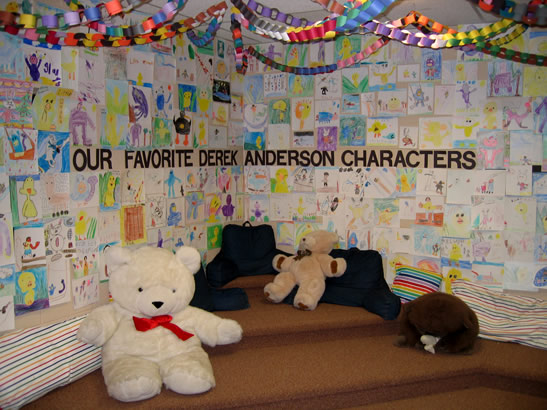 The Students All Drew Their Favorite Characters from Derek's Books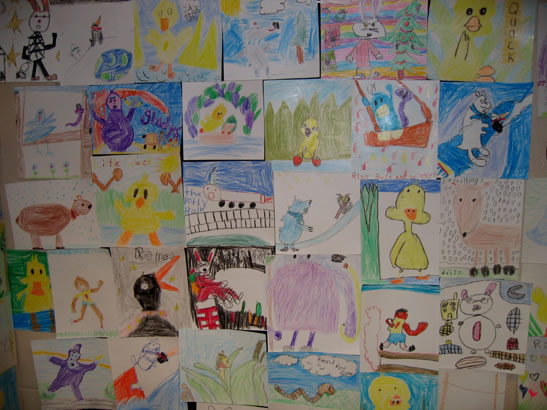 Nearly All of Derek's Characters Can Be Found- From Gladys
to Little Quack, Blue Burt, Wiggles and Even Romeo and Lou!

One Entire Hallway was Decorated with Gladys Gorillas


Another Hallway was Decorated with Little Quacks


They Created Flowers Like Blue Burt and Wiggles,
and the Giant Sun from the Book
The Amazing Media Specialists Wore Romeo and Lou's Scarves
They Even Made Blue Burt's Suitcase-
Adding Their School and Town Stickers to the Side