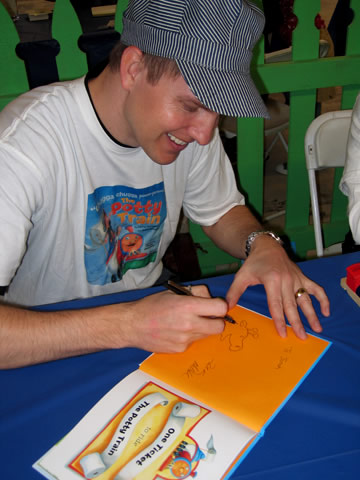 Derek to do a Special Storytime
at Red Balloon Bookshop
this Saturday, March 8th!
What: Toddler Storytime

When: Saturday, March 8th
10:30am

Where: Red Balloon Bookshop
891 Grand Avenue
St. Paul, MN 55105
651-224-8320

Why: To celebrate the publication
of Derek's newest book
The Potty Train

Derek will be joining Red Balloon Storytime pros Kim Faurot and Sara Waters to present his latest book, The Potty Train. We'll be reading books, singing songs, drawing pictures and having an all-around good time. Come and join the fun! For details, you can visit the Red Balloon website by clicking HERE.
Fun in Missouri
Read Derek's Newspaper Interview!
Derek took a trip to Washington, Missouri in mid January to talk about his books. Washington is a small, charming town just outside of St. Louis, and make no mistake about it- they love books there. Derek had an incredible time with everyone in Washington. He visited two local schools where he spoke with the students, and then gave one big presentation at the library. In advance of his visit, Derek chatted with Karen Cernich from the Missourian, a local newspaper, about books, bananas and breaking into the world of children's publishing.

To read the interview, please click HERE.

---
The Potty Train Launch Party...
Derek (left) with The Potty Train authors David Hochman and Ruth Kennison
The Potty Train launch party in Los Angeles was a huge success with hundreds in attendance! It served as not only a book launch, and perhaps the largest potty-training celebration of the century, but also a benefit for a great organization called Baby2Baby.

Derek and authors David Hochman and Ruth Kennison read the story, drew a picture and signed tons of books. There was also food, a live band and crazy fun!
The Potty Train
Reviewed in Kirkus!
A very nice review of The Potty Train was published in Kirkus in December. After a summary of the story, they say, "Young children will enjoy the inventiveness of Anderson's acrylic illustrations, which incorporate everyday objects and toys into a fantasy train ride that marks the journey from diapers to "Undie Junction."

To read the complete review, please click HERE.

A New Review
for Romeo and Lou!

The fine folks at Children's Literature wrote an outstanding review of Romeo and Lou Blast Off. They say, "This book very playfully celebrates imaginative play and deserves a place in home or classroom libraries."

To read the complete review, please click HERE.