Derek to Read/Sign in Edina & St. Paul
There are still two more chances to see Derek read his brand new Christmas book, How the Easter Bunny Saved Christmas. Both events are in the Twin Cities. Come by, say hello and pick up a personalized gift for Christmas.

Saturday, December 2nd
11:00am
Barnes & Noble (in the Galleria Mall)
Edina, MN


Saturday, December 9th
10:30am
Red Balloon Bookshop
St. Paul, MN

______________________
Blue Burt Grabs Another Great Review!
This time in the pages of Publishers Weekly... Calling it a "delightful tale" the reviewer says, "The opening spread shows the two friends happily playing a Bird Brain board game- just one of many subtly placed chuckles for observant readers." They finish the review with a great reference to the heart of the story, "Paints and brushes aside, Anderson's story soundly conveys the glue that bonds together this unbreakable friendship."

For the complete review, please click Here.

______________________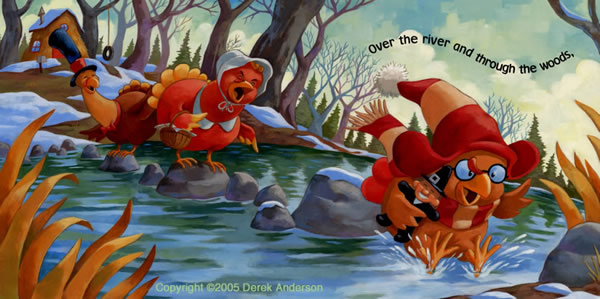 'Tis the Season of the Turkeys!
Thanksgiving is coming around again, and Papa, Mama and little Tommy turkey are returning to bookstore shelves everywhere in a favorite called Over the River: A Turkey's Tale. Booklist called Derek's paintings "...eye-popping acrylic pictures." Following a summary of the story, the Tribune-Review in Pittsburgh, wrote "All's well that ends well, as they say, with Derek Anderson's colorful acrylics garnering high grades for their imagination." And the Pioneer Press in St. Paul, Minnesota said, "Minneapolis illustrator Derek Anderson uses the lyrics of a popular Thanksgiving song as the text for his new kids' picture book...But his version offers a hilarious twist on the traditional tune..."

On a website called "Curled up with a good kid's book" they say, "Derek Anderson's anthropomorphized turkey-centric interpretation of Lydia Maria Child's old familiar 'Over the River' gives kids and parents a picture book to be thankful for." They go on to say "Goofy details enlighten the text to a child's delight..." And finally, "This is a complete-and completely entertaining- Thanksgiving treat." To read the full review, please click HERE.

To order your copy of Over the River: A Turkey's Tale, click HERE.

______________________
New Spoonfuls of Stories!
This time with Little Quack's Bedtime
Little Quack's Bedtime is one of the featured books in the new Spoonfuls of Stories program! As you may recall, the first Little Quack was featured in the Spoonfuls of Stories program last fall. Spoonfuls of Stories is a literacy initiative program sponsored by Cheerios & First Book.

Everyone knows what Cheerios are. First Book is a national non-profit organization with one giant goal: to give children from low-income families the opportunity to read and own their first books.

From now until January, 2007, A free "child-sized" copy of Little Quack's Bedtime will be included in more than one million specially marked boxes of Cheerios. Four other terrific books have also been selected for this very special promotion. As an added bonus, Little Quack's Bedtime has been produced exclusively as the only bilingual book in this year's promotion.

Derek is proud and honored to have his work included as a part of this reading program. Many thanks to First Book for all of their great work, thanks also to the folks at General Mills, and also Simon & Schuster who helped make it possible.

If you're interested, your family can make a donation to First Book using special donation forms included on Cheerios boxes. One hundred percent of the funds will be used to buy books and the donations will be sorted by zip code, with books going back to the communities where the donations came from.

If you would like to learn more about First Book or about Spoonfuls of Stories, click HERE.

______________________
Derek on the Radio Sunday, October 22nd
You Can Tune in On the Internet!
While on tour in San Francisco, Derek was interviewed by radio personality Jim Foster. Jim routinely interviews authors for his half hour radio show, "Conversations on the Coast" which is broadcast on Sunday mornings in San Francisco. But it is now available on the internet as well. The program, featuring a conversation with Derek about his two newest books, Blue Burt and Wiggles and How the Easter Bunny Saved Christmas will be broadcast on Sunday morning, October 22nd at 9am Pacific time (that's 11am Central time). For now, that's the only time the program can be heard. Currently, they're not archiving the programs on their website. We've provided a link to the station below, but be sure to get there early! They have a short questionnaire to fill out before you can listen.

You can find the station by clicking Here.
______________________
How the Easter Bunny Saved Christmas
Reviewed in Publishers Weekly
How the Easter Bunny Saved Christmas was recently reviewed in the pages of Publishers Weekly. They did a very nice write-up and went on to say it's "...likely to tickle younger readers' funnybones."

You can read the complete review by clicking Here.
______________________

September 21 is a special day for my best pal in the world...
Happy Birthday Friday!
______________________

Blue Burt and Wiggles Reviewed
by the folks at "Parents' Choice"

Blue Burt and Wiggles is featured on the "Parents' Choice Foundation" website right now under the section "What We've Been Reading" along with a great review. The reviewer says "Derek Anderson captures a subject close to the hearts of many children, and does so with a gentle touch."

You can read the complete review by clicking Here.

______________________


Blue Burt and Wiggles Chosen as a Standout
by the Editors at Barnes & Noble.com
It's true! The editors at Barnes and Noble.com have selected Derek's brand new book, Blue Burt and Wiggles as a favorite and they've placed it under books they recommend on their website. Calling it one of the summer's best books and "an inspiring story," they've created a short video featuring some of the pictures from the book along with a voice-over telling about the story.

You can see the video by clicking Here.

And when you get there click on "Take a tour of Books We Love for Kids and Teens"

(Note: Their recommended list changed over in mid-September and the video is no longer available. Sorry, Charlie.)