More Goodies for the Gobblers

Over the River: A Turkey's Tale has been getting some wonderful press. In a review that appeared in the Pioneer Press in early November, they wrote "Minneapolis illustrator Derek Anderson uses the lyrics of a popular Thanksgiving song as the text for his new kids' picture book, "Over the River: A Turkey's Tale" (Simon & Schuster, $14.95). But his version offers a hilarious twist on the traditional tune: The protagonists are turkeys." She goes on to say, "Anderson... has an eye for humor." To read the complete review, please click HERE.

And WCBS in New York recently named Over the River: A Turkey's Tale a best new book. Check it out HERE.

---

From the Tribune-Review in Pittsburgh

The Tribune-Review in Pittsburgh recently ran a terrific review of Over the River: A Turkey's Tale. Read below:

"Over the River: A Turkey's Tale," illustrations by Derek Anderson, based on the song by Lydia Maria Child; Simon & Schuster, $14.95, 40 pages, ages 4 to 8.
You talk about taking a familiar tune and giving it a clever new twist. In Derek Anderson's rendition of this well-known song, the family that is traveling over the river and through the woods to grandmother's house is a family of turkeys, each and every one of them dolled up for a day of pleasantries, though the trek is anything but easy. An old gray horse knows the way through the snowy woods, but a young hunter with an amiable hound dog in tow has other plans, making the adventure of the gobblers anything but routine. All's well that ends well, as they say, with Derek Anderson's colorful acrylics garnering high grades for their imagination.

-Nicholas A. Basbanes

---
Derek's Snowflake up for Auction Soon!
Okay, here's the reality- very little of Derek's original artwork has been released for sale. Though he's been approached by both galleries and individuals, he's resisted selling his paintings.

So here's your chance to own an original work of art by Derek Anderson- and benefit cancer research at the same time. When Derek's snowflake goes up for auction on November 27th, you will have the opportunity to own the snowflake that he painted exclusively for this cause.

The auction (on ebay) begins November 27th and will run one week only through December 4th. It's a great cause and you could come away with a piece of original art by Derek.

To learn more, visit Robert's Snow by clicking HERE.

---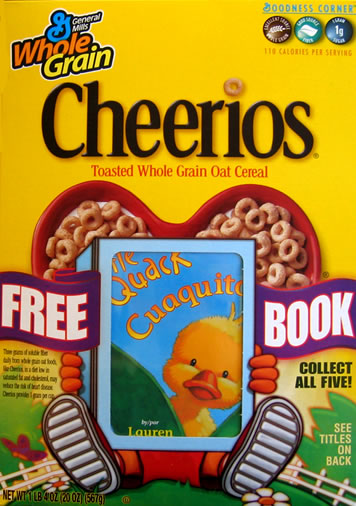 Spoonfuls of Stories!
Now you can have Little Quack with your Cheerios!
Little Quack has been chosen for Spoonfuls of Stories! Spoonfuls of Stories is a literacy initiative program sponsored by Cheerios & First Book.

Everyone knows what Cheerios are. First Book is a national non-profit organization with one giant goal: to give children from low-income families the opportunity to read and own their first books.

From now until January, 2006, A free "child-sized" copy of Little Quack will be included in one million specially marked boxes of Cheerios. Four other wonderful books have also been selected for this very special promotion. Cheerios is distributing a total of five million books in all- one million each of the five books selected. As an added bonus, Little Quack has been produced exclusively as the only bilingual book in this year's promotion. So get a box of Cheerios, have your breakfast and learn to say "Quack" in Spanish!

Derek is proud and honored to have his work included as a part of this terrific reading program. Many thanks to First Book for all of their great work, thanks also to the folks at General Mills, and also Simon & Schuster who helped make it possible.

If you're interested, your family can make a donation to First Book using special donation forms included on Cheerios boxes. One hundred percent of the funds will be used to buy books and the donations will be sorted by zip code, with books going back to the communities where the donations came from.

If you would like to learn more about First Book or about Spoonfuls of Stories, click HERE.
---
Auction for Derek's Snowflake is Set
Get ready to bid! The auction dates for the Robert's Snow Original Snowflakes have been set. There are so many snowflakes that they had to break them down into five different auctions. Derek's snowflake will go up for bid on ebay on Sunday, November 27th. Bids can be made for one week only- until December 4th. We will provide a link from this site when the date rolls around.

Have you heard of Robert's Snow? Nationally recognized children's book illustrators paint original snowflakes and they're auctioned on ebay with 100% of the proceeds going to cancer research. Last year, Robert's Snow raised more than $100,000 for cancer research. You could own an original piece of art by Derek Anderson or one of the other talented artists participating this year. You can contribute by simply buying a piece of unique art! The snowflakes are displayed on the Robert's Snow website now. Please visit Robert's Snow by clicking HERE.

And yet another Review...

You can certainly tell it's autumn! All of the new fall books are showing up in stores and the reviews are coming in one after another. We've already posted reviews by Kirkus and School Library Journal. Booklist has just come out with a review of Derek's latest book, Over the River: A Turkey's Tale.

They call Derek's paintings "... eye-popping acrylic pictures, big and vibrant enough for group sharing..."

To read Booklist's full review of Over the River, click HERE.
---
Another Over the River Review...
We've just received a new review from School Library Journal. In their review of Derek's new book, Over the River: A Turkey's Tale, they begin, "Anderson's amusing acrylic artwork provides a new twist on a favorite holiday song." They go on to say, "This is a fun, humorous addition to Thanksgiving collections. Children will enjoy looking at the entertaining illustrations and comparing the chaos pictured there to the words of the old song."

To read the full review of Over the River, click HERE.

Over the River: A Turkey's Tale is on sale now.

---
Little Quack's Bedtime wins Award!
Little Quack's Bedtime has been selected as a 2005 National Parenting Publication Gold Award Winner! The National Parenting Publication Awards is one of the country's most authoritative consumer-awards programs recognizing the best in children's and parenting resources. Little Quack's Bedtime, written by Lauren Thompson, and illustrated by Derek Anderson was published by Simon & Schuster Books for Young Readers last February.

Hooray for Little Quack!
---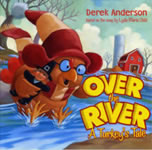 Over the River is Reviewed!
Kirkus Reviews has just come out with the first review of Derek's newest book, Over the River: A Turkey's Tale!

Following a brief summary, Kirkus says about Over the River, "...young readers will be so captivated by the fracas in Anderson's big, exuberant cartoons..."

The book centers around the classic Thanksgiving song "Over the River" by 19th Century author, Lydia Maria Child and was adapted by Derek. The book was published by Simon & Schuster Books for Young Readers and is on sale now.

To read the full review of Over the River, click HERE.

---

An All New Gladys Review!



There's more great news from the critics! A wonderful new review of Derek's book, Gladys Goes Out to Lunch was just published by School Library Journal. Following a summary of the story, the reviewer writes, "This humorous book will tickle children and could also fit well into a unit on the five senses"...


To read the full review, click HERE.